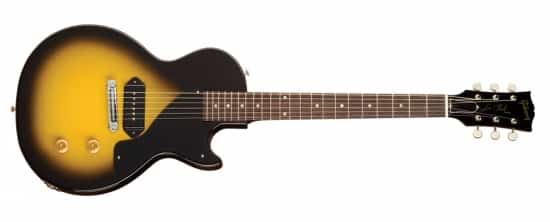 Nearly a quarter century before Edward Van Halen brought the idea of the single-pickup solid body guitar screaming into the Eighties, Gibson stumbled upon the fact that a solid slab of wood with one burly-ass pickup is all yo need to rock the rafters.
The year was 1954, and Gibson needed a cheap guitar to satisfy the millions of fledgling rock and rollers ichin' for an affordable six-string. Gibson's solution? The bare-bones Les Paul Junior, a single-cutaway axe with a one-piece mahogany body, mahogany neck, non-intonatable stop tailpiece, a solitary P-90 single-coil pickup and one volume and one tone control. Finish it off with a sunburst finish and a cardboard "alligator case," and voila'! A guitar for the masses.
What Gibson Guitars didn't know was that, despite themselves, they were making some of the finest guitars (let alone entry-level guitars) in God's great creation. The necks, designed to withstand the Herculean pull of the factory-issue 0.014 gauge strings, were as stable as a rock. And Lordy, did that single pickup scream!
Les Paul Juniors were held in low regard until the early Seventies, when hand rockers began to rediscover these find guitars, which at the time could e had for a song. Mott the Hoople front man Ian Hunger recalls picking up these babies in pawnshops for $75 a pop. But he and Hoople guitarist Mick Ralphs weren't the only ones to discover the virtues of these El-Cheapo axes. Leslie West used a Junior to record immortal power riff on "Mississippi Queen." And Jethro Tull's Martin Barre laid down the brontosaurus-battering "Aqualung" with one of these find axes.
Gibson Guitars cranked out the single-cut Juniors from '54 to very early '59, when they went to a double-cutaway variation of the instrument (more on that later). As a result, a lot of these instruments are around, and can be had at a somewhat reasonable price. You won't be picking up Juniors for $75 anymore, but if you can scare up between $2600 – $3600, you can score yourself a scorching piece of vintage guitar history. Discuss @ Gear-Monkey Forum
Gibson Les Paul Junior