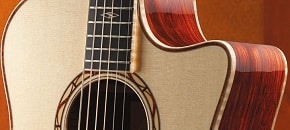 We live in a world of automation. A world of higher profits, lower costs, and mass production. Companies get big, and to satisfy an ever-growing and diversifying market, they take these steps to make sure they are staying on the mark with consumers. Unfortunately, quality often gets chucked to the side in this process of trying to perpetually keep items on the shelves. More people means more materials, and more materials mean more space, which all leads to the product quality depending on every single person doing everything correctly.
We've seen this kind of behavior countless times in the past, with just about any market. The automobile industry, the food industry, and yes, even with electric guitars  and acoustic guitars.
When Fender Guitars was bought out by CBS in 1965, the world watched as the quality slowly deteriorated to a laughable state, causing players to move in other directions, many going back to the vintage guitar market.
Similar situations have developed in companies like Ampeg, and even Gibson.
And although a manufacturer may go through ups and downs like this, sometimes, every once in awhile, Fender or Gibson or Martin or whoever, will do something big and different that pushes the reset button on quality control.
This time, it's Taylor's turn. A large portion of players considers Taylor Guitars as a top-notch acoustic creation, second only to Martin. [Of course, there is a battle raging on about this issue as well, but that is for another article.]
This year Taylor has proudly announced its Limited line, consisting of four very thought out models.
These four models stake their claim as marvels of incredible craftsmanship and innovation.
The foundation for these guitars is the wood choice. Koa and Cocobolo are the two anchor woods that are used, with a few changes and features that vary by model.
Taylor Cocobolo Acoustic Guitar Series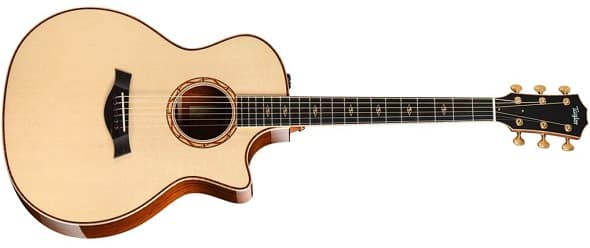 The first of the collection, the Cocobolo series, is made primarily from Mexican cocobolo, a very rich and dense wood that gives a nice weight and balance but also projects a unique brightness and clarity. The guitar is complimented with split diamond inlays, and an outlined s-curve, both of which make it a visual benchmark as well.
Taylor Koa Acoustic Guitar Series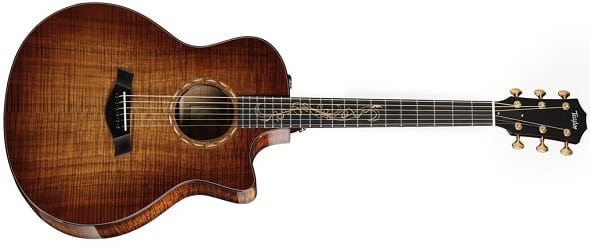 Acacia Koa is a wood exclusive to Hawaii and is recognized as a wood that is high in value and tone, and its uses reach far beyond the guitar, finding its place in ukuleles, mandolins, furniture, and surfboards. The Koa Acoustic Guitar Series is designed for the stage, drawing focus to the midrange of the instrument, while articulating the attack in a balanced manner, and allowing the lows to resonate well without being so boomy.
Although this guitar is designed for tonal superiority, it wouldn't be a limited edition without some fancy artwork on it either. The main focal point of this guitar is the inlay work, which is an abstract Engraved Twist design, that will surely impress even the last of the die-hard Martin fans.
Taylor Rosewood 400 Acoustic Guitar Series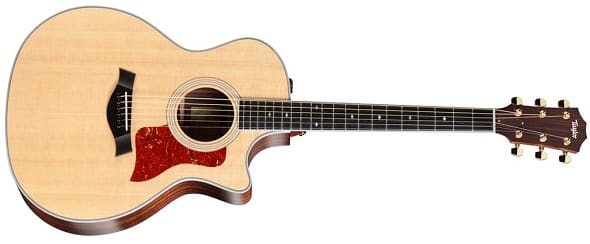 The Rosewood 400 is easily the most tempered piece visually but is a cleverly disguised masterpiece. We all know and love rosewood, a mainstay of lutherie, whether rare or not. Taylor uses this wood here for the back and sides, with Sitka Spruce for the top. Their approach with this series is a minimalist, quality design. One that sounds great and looks great, but it isn't so rare or valuable that you would park it in a museum and keep it off the road.
Taylor Cedar Top/Nylon Acoustic Guitar Series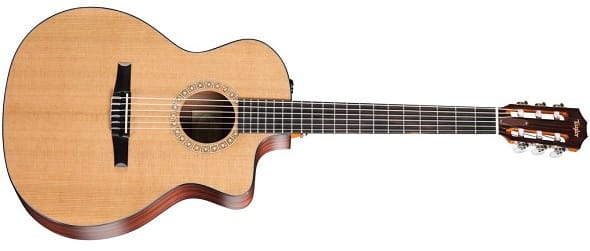 Finally, we have come to the Nylon model, an area that I am personally delighted to see Taylor upping the ante. These models aim to please steel string players and to expand their palette with a nylon guitar, by equipping this otherwise standard nylon with an exclusive Taylor neck, that most players are already used to.
Each of these acoustic guitars has its own place in the music and sets the bar for excellence in the guitar industry. And while many may never play one, just hearing it will be enough to clue you into these awesome works of art.