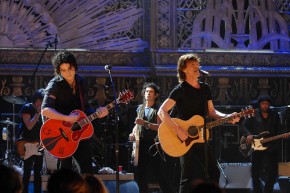 Fitting into the Mix
The easiest way to get a great acoustic sound is to start with a great-sounding guitar. Taylor acoustics have long been favored by artists and recording engineers for their clear, balanced tone. In fact, many engineers keep Taylors in their studios because they know they can always count on the clarity of "the Taylor sound" without the need for a lot of EQ tweaking. Between the crisp articulation and tonal balance of the bass, midrange and treble notes–full in the lower register, present in the midrange, and sparkling on the treble strings–Taylors offer a clean, even acoustic sound that makes recording a breeze. Taylors also fit nicely in a mix, occupying just the right amount of sonic space without taking up too much room or competing with other instruments.
The Right Shape for Your Sound
While any Taylor model will yield a reliably clear sound, each different Taylor body shape delivers a unique sonic identity that suits certain playing applications. The Grand Auditorium is a great multi-purpose guitar that works well for strumming, fingersytle and light to medium flatpicking. For a bolder sound with great dynamic range, the GS is a great way to go. The small-body Grand Concert, with its controlled overtones, works especially well with microphones. For a traditional acoustic sound, the Taylor Dreadnought yields power with impressive balance, while the bigger Jumbo offers a robust voice, yet with a tighter midrange that curbs the boominess that would disrupt the tonal balance.
Taylor's ES Pickup as a Recording Tool
Taylor's high-fidelity Expression System (ES) acoustic pickup, a standard feature on acoustic/electric models from the 300 Series** up, leaves behind the distorted piezo "quack" of traditional acoustic pickups in favor of an active system of magnetic sensors invisibly imbedded in the body of the guitar. As a result, the ES captures the guitar's acoustic nuances in the fullest, most natural way possible. Not only does the ES deliver superb amplified sound for gigging, it also gives players a killer tool for recording direct. It's great for "flat" recording–allowing players to apply computers plug-in and post-production touches easily. It also solves other recording problems: It enables a guitarist to move their Taylor while playing (instead of having to keep it in front of a mic); it works in noisy recording environments; and it can be used to record together with other instruments without any sonic bleed. Another option is to blend the direct ES signal with a mic'd signal to add sonic details or shape the tone in other ways. For even more ES-inspired tone-shaping control, the Taylor K4, a high-fidelity equalizer featuring a sweepable band of EQ, allows you to voice your guitar exactly the way you want it in any environment.
Electric Recording
Taylor's pickup development ideas were also applied to electric guitars, giving them a "familiar yet fresh" sonic character that more than lives up to Taylor's standards of great tone. From the hollowbody electric/acoustic hybrid T5 to the semi-hollowbody T3 to several SolidBody models–including high-gain and high-definition humbuckers, plus a new noiseless single coil–we've got a complete range of inspiring electric tones for every type of player. So, whether you're recording acoustic or electric tracks–or both–Taylors offer the gear equivalent of a session ace, giving you the tones you crave without the time-consuming technical hassles. Written by Musicians Friend
Acoustic Guitar Recording Techniques