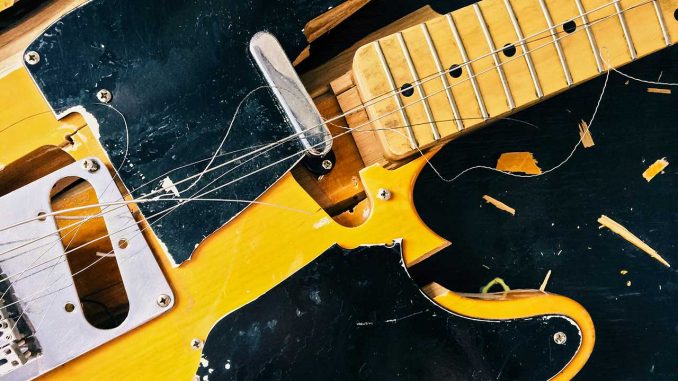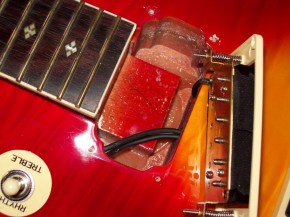 Guitar Blogs and Webzines normally write about all the great and positive hooptah, in regards to guitars and guitar companies, and usually shy away from talking about what really needs to be talked about. Here at Gear-Vault we believe in the "no bullshit' policy, which means we not only write about the good that need to be revealed, we also write about the bad and the ugly–that–MUST be exposed.
First off, let me state for the record that we have not preformed any hands-ons review of Xaviere guitars–yet.
The owner of GuitarFetish.com have not sent us a review guitar. If you would like Gear-Vault to evaluate this guitar and publish a comprehensive no-BS-hands-on-review of Xaviere, then forward this article on to the owners of GuitarFetish and tell them you demand a Gear-Vault review of this guitar.
To start off our Xaviere research, let's find out where these guitars are produced. According to carvinguitars.com message forum, these guitars are made in 'China'. I guess that is to be expected for a guitar at this price point. If you read the entire thread on carvinguitars' forum, you'll see the poster gushing over the GFS pickups installed in Xaviere guitars, stating "I think they compete well with pickups that are twice the GFS price [point]". That sounds promising. Or does it?
Not according to a relatively recent thread posted on mylespaul.com forum. A forum poster named "Powdercoater" added to the topic with a discouraging and negative experience with Xaviere:
"I just received a Xaviere XV-500 a few days ago and want to say that it's been a lousy buying experience. The guitar is junk and has big finish runs, a gouge in the top , terrible frets, and lots more that I'll not get into unless someone wants to hear it. It was apparently a return because it had play marks and the plastic film had been mostly removed from the plastic parts. Just the fact that they shipped me this thing is wrong, but guitarfetish's response was what soured me on dealing with them. After all's said and done I'm out $40 and the time spent on sending it back. Frankly my expectations for an inexpensive guitar aren't that much but GFS selling a second/blem as new and refusing to even communicate is bullshit. I didn't complain or even offer any description of the guitar. I was trying to get some info on how the money works on an exchange and got a really snarky reply from a guy named Jay. After that he's refused to reply to follow up email from me. I've bought from Rondo and gotten a good product and great service. Same with Musicians Friend. If you buy from GFS you're risking getting clipped for at least the shipping. I'll see how the refund goes."
To be fair, the XV-500 is a $209 axe. Not that should justify anything when you can buy a Squier, Epiphone or an Ibanez for under $200. Can we overlook the fact that many people are really high on GuitarFetish's GFS pickups? No, that is not the be all, end all to what determines a decent guitar.
With further research we stumbled across Harmony-Central reviews, which seem to be slightly favorable, at least compared to all the negatives found. How do we know what is real or what is manipulated, and how can we trust the judgment of another guitarists views? We could look at all the things that seem to be consistent, however, the Harmony-Central reviews are not all that consistent, in fact, the reviews look to be all over the charts. One thing that seems to be somewhat consistent is GuitarFetish's poor customer service:
"These guys were horrible in responding to my emails. The guitar they sent me was garbage. I went to a professional guitar tech when I got it, and he told me the only way to attempt fixing it would be to steam the neck.(est $100) It was completly warped, with the strings about an inch above the fretboard. These guys just threw this guitar in a box and shipped it. NO SETUP WHATSOEVER!!!! Or they would of known. They said they thought the truss rod was broke, but if you looked down the neck it was rippled. A blind man could see it was warped. People who dont have some knowledge are going to be ripped off by these guys on ebay!!! They did send my money back, but they took there sweet time. This guitar lures you in by the way it looks, and I do admit, it was a nice flamed top."
So with everything that you learned today, is anything a deal breaker for you? Would you send your cold hard cash over to a company with such mixed reviews? Join our message forum and tell us what personal experiences you've had with GuitarFetish and Xaviere guitars, we'd love to hear from you! Let your words and thoughts be heard for everyone to read. https://gear-monkey.com/forum/showthread.php?t=1195
ATT! READ: Are Xaviere Guitars JUNK? PART 2
Page: 1 | 2