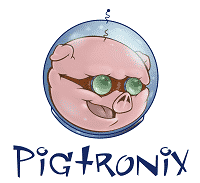 Pigtronix is not your typical guitar effects maker. Starting with the original Envelope Phaser, Pigtronix pedals have been anything but conventional. According to David Koltai, president of Pigtronix, "With companies like BOSS and Dunlop to compete with, it seemed crazy to come out of the gate as a startup trying to compete on their terms." That's why Koltai and long-time friend Brian Bethke teamed up to form Pigtronix. They decided to focus exclusively on effects pedals that were unlike anything on the market.
Unique effects such as an envelope-controlled phase shifter, a parallel-distortion box, an ADSR dynamics generator, and a freakishly accurate pitch-tracking mono synth quickly made Pigtronix pedals popular among modern creative musicians. Driven by a never-ending quest to discover new kinds of effects, Koltai still turns to customer feedback for future design concepts. Andy Summers, Vernon Reid, Red Hot Chili Peppers, Jack White, Adrian Belew, Bootsy Collins, Weezer, The Roots, Primus, and other artists have been instrumental in establishing Pigtronix as a top-level effects maker, both as customers and as sources of critical feedback.
In fact, legendary rocker Frank Marino encouraged Pigtronix's development of the Philosopher's Tone. The Philosopher's Tone – arguably the cornerstone of the Pigtronix lineup – is one of the most popular compression/sustain pedals ever made, renowned for its near-infinite sustain. Likewise, the brilliant NYC guitarist Craig Brodhead introduced Koltai to the idea of using the "Golden Ratio" as the basis of the rhythmic delay lines in the instantly musical Echolution delay pedal.
Other creative fists for Pigtronix include their studio multi-tool, the Keymaster, which combines re-amping, A/B/Y switching, impedance matching, and summing into a single pedal. This amazing utility pedal is the perfect place to start if you've ever had a complex tone idea but didn't know where to start. And the Disnortion parallel- parallel-distortion pedal is widely considered one of the fattest-sounding distortions ever made, finding favor with such legendary players as Adrian Belew, Tony Levin, and Brad Whitford. If you're not already familiar with Pigtronix's amazing pedals, check out the videos and audio demos below. Source: Pigtroix.com.
Pigtronix Guitar Effects Pedals Video Demo