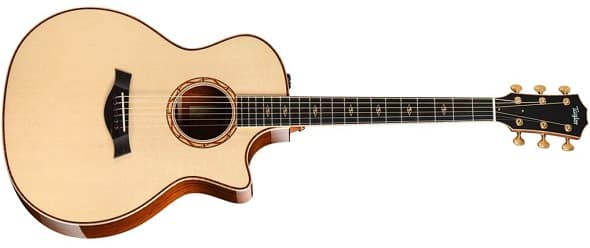 Taylor Guitars has unveiled its new 2011 Fall Limited Edition Guitars, featuring premium tonewoods: Cocobolo, Koa and Indian Rosewood with new inspired inlay designs.
The stars of the Taylor Fall Limiteds are the Koa and Cocobolo. They are exceptional tonewoods that have unique signature acoustics.
They also have sophisticated grainy and earthy wood visuals that compliments the sound, rounding off their over all organic and aesthetic vibe.
The Cocobolo and Koa are usually reserved for the exclusive Presentation Series or via custom builds, but this fall you will get the chance to own one as long as the limited production allows. The looks of these guitars are further enhanced by matching artistic rosette and inlays. These guitars are suitable for those who are looking to expand their tonal palette
The Cocobolo line features Cocobolo back and sides with Sitka spruce on top. Since Cocobolo is one the densest and heaviest rosewood around, it allows the guitar to produce clear bell like high tones and piano like low tones.
The Koa series features an all Koa guitar, or an optional Englemann Spruce top. The Koa is a unique and sophisticated wood and brings out natural midrange. It tends to be more balanced in terms of attack and less boomy, which makes it suitable for stage performance.
The Indian Rosewood line although not as exotic as its brothers, has its own unique look and sound to offer. These guitars have the traditional Sitka spruce top and is designed to be more of a workhorse guitar for hardworking musicians. Its a great deal if you are looking for flexibile and all around acoustic guitar tone with the Taylor brand backing it up.
The other more traditional version of the Indian Rosewood line are the nylon string guitars with Cedar top. If you are into latin or classical music, or you want to give it a try, then maybe this affordable guitar is for you.
The 2011 Fall Limited Edition cast of guitars have something to offer for almost all types of acoutic guitar players. For more information head over to TaylorGuitars.com […]