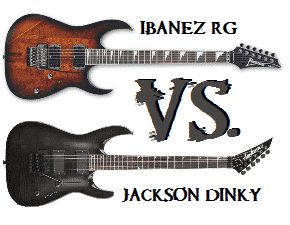 The Jackson Dinky and Ibanez RG are long-time favorites in the rock and metal guitar community. Both represent excellent choices for rock players looking for a new axe with a history of getting the job done right.
In a spirit of fostering healthy competition and debate, your intrepid staff here at Gear-Vault have decided to put these two legendary planks side by side to see how different they might be from each other and which you should buy.
Both guitars chosen for this shootout are within the same price bracket, feature double locking tremolo systems (Ibanez RG420 has the Edge III and Jackson DKMG has a License Floyd Rose), hot pickups, fast necks and brilliant colors. However, the playability are not quite the same.
The Ibanez have more of wide neck, whereas, the Jackson has more of "C" shape neck. We'll first take a look at the Jackson Dinky DKMG, then take a look at the Ibanez RG420 for comparison. Also, take a look at the Ibanez RG2EX1 vs RG321 Shootout we did back in May.
Jackson Dinky Guitar
The Dinky is a Jackson classic and show the kind of features and appointments that the company is known for. Rooted in the "super Strats" of the 1980's, the Dinky has a double cutaway Alder body, a bolt-on quartersawn hard rock maple neck, and a compound radius ebony fingerboard.
There are several Jackson Dinky models in the line to choose from, with electronics ranging from a single humbucker to dual humbuckers to a hum-single-single configuration. There is a 7-string model and a lefty available, as well as trem and hardtail models. The Dinky is a true California hot rod, born to burn and rock hard.
Ibanez RG Guitar

The Ibanez RG series of guitars are possibly the most numerous guitars ever made in terms of sheer number of models available and are certainly the most popular line of guitars Ibanez has ever produced.
They are among the most popular rock and metal guitars ever and were first made in 1987 as derivatives of the Jem and Universe Ibanez models as played by rock legend Steve Vai. Like the Dinky, the RGs are super Strat-derived and feature double cutaway bodies, various combinations of pickups, trem and non-trem styles, and six-, seven-, and even eight-string versions.
The Ibanez RG series represents some of the best ideas of Japan's instrument makers, ideas that have stood the test of time and that add up to a whole bunch of guitars that have made a whole lot of rockers happy over the years.
So which guitar is right for you? Only you can make that decision. What it comes down to is design philosophy: do you want an American-style California custom or would you rather be put under the spell of the Tokyo Drift?
Either way, you will end up with an excellent guitar with great fit and finish and a pedigree that is pure rock and roll. Sounds like a win/win situation, if there ever was one.