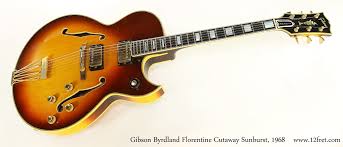 Introduced in 1955 Gibson's Byrdland was one of the first thinline hollowbody electrics. Designed with the help of hot-shot guitarists Billy Byrd and Hank Garland, whose surnames were combined to form the model's name, the Byrdland was a Venetian (i.e. rounded) cutaway archtop with a carved spruce top and solid maple rims and back. Though the body was only 2-1/4 inches deep, rather than the standard 3-3/8 inches. Also unusual was the instrument's short scale length 23-1/2 inches, a full two inches less than that of most archtops, allowing guitarists to play chords that required large stretches.
Available in natural or sunburst, the top-of-the line Byrdland was first offered with twin P90 pickups and had a number of fancy touches: extensive multiple-ply binding an ebony fretboard with an artfully pointed end, a pearl flowerpot design on the headstock, an ornate, three-loop tailpiece and gold plated hardware.
The guitar underwent several changes over the years. In 1958, the P90s were replaced with humbuckers, and in 1961, it received a Florentine (sharp) cutaway for better access to the uppermost register. In the early Sixties, the solid maple back was replaced with a laminated one; and in 1969, the Venetian cutaway was reinstated.
Perhaps because of its short scale—and despite being the main ax of high-profile rocker Ted Nugent—the Byrdland is significantly less collectible than other Gibson thinlines. I recently found a 1956 example for $8,995 and a 1964 for $11,500, both in excellent condition. Keep in mind, too, that Gibson's Custom Shop offers a limited-edition replica of the original Byrdland.
Gibson Byrdland Guitar
Thanks to GuitarWorld for the report