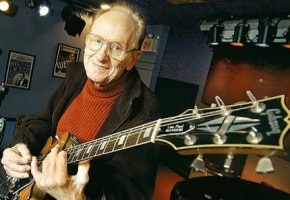 Les Paul–arguably the most influential and innovative guitarist and inventor of musical technology in history, passed away August 13th, 2009 from complications that resulted from a severe bout of pneumonia at White Plains Hospital in White Plains, New York. He was 94. Born Lester William Polsfuss in Waukesha, Wisconsin on June 9, 1915, Les was already gigging as a honky tonk guitarist by age 13. He became a star in Chicago in 1934 playing on the radio as hillbilly picker Rhubarb Red and as Django-influenced jazz player Les Paul. He was always interested in tinkering with electronics and inventing things, a passion that led him to develop things we now take for granted, like multi-track recording and solid-body guitars. This interest eventually led to his involvement with the Gibson Guitar Company and the development of the Gibson model that bears his name which has become one of the most iconic guitars ever made.
By the time Paul was in his mid-30's, he had successfully fused the twang of Rhubarb Red with his own Django-esque jazz playing into a single electrifying guitar style. His sound was razor-sharp and smooth and became one of the most distinctive voices ever on the electric guitar. The popularity of his music began to wane with the rise of rock and roll, though his influence on the world of guitars continued to grow. Through a long life filled with ups and downs, health problems and other concerns, Les continued to perform until the year of his passing.
Les Paul, to make a long story short, changed the world. Our culture of electric guitars and recording musicians would be completely different without his innovations. There is not a creator or consumer of music today that is not standing in Paul's shadow. We here at Gear-Vault are saddened by his passing, but are happy to know that the Legacy of Les Paul will endure as long as there is at least one person still interested in the electric guitar.
Rest in Peace, Les. Thanks for everything