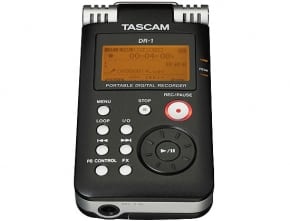 Nowadays many smaller and compact handheld devices are constructed by designers trying to cram as many features as possible into them. From the iPhone, which lets you check your bank account, pay bills and track the latest weather reports, to GPS units that provide nearby restaurants and let you listen to Sirius and audiobooks. Portable electronics are becoming the standard all-in-one tool for information, entertainment needs, and transportation convenience.
The Tascam DR-1 Portable Guitar Recorder is a perfect example of the handheld device trend. Unlike other compact handheld recorders, the DR-1 does more than allow you to simply record pristine stereo digital audio in the middle of nowhere camping or vacationing. With the DR-1, you can pretty much compose and record an entire song. The recorder has a metronome, guitar tuner, and many other amazing effects. While the DR-1 doesn't have the multitasking functionality of Tascam's Portastudio recorders, its guitar-oriented features make an all-in-one demo and practice powerhouse.
How many times as a musician do you feel you have the right moment to record but are too far away from your home studio? The Tascam DR-1, records in stereo or mono, is flash-memory based with built-in microphones to capture .wav (up to 48 kHz) or a .mp3 file (up to 320 kbps). An external port is also available for plug and play. Its 1GB memory card is essential to the recording. We all know how big an audio file can be and space is crucial when you are creating.
The DR-1 can allow you up to several hours of recording MP3 or WAVE File formats. The unit also features an overdub option which you can play one track then add voice later. How many times do we play it live and then take it home and take it apart? The stereo microphones on the unit are at a variable angle which is crucial to recording sounds from any direction. The auto gain control and analog set up assure even the novice user can operate the unit with little or no problems. The DR-1 also includes a low-frequency cutoff to reduce noise and improve recording quality. Two essential assets in the Tascam DR-1 are the drag and drop function which can be used via the USB or an SD/SDHC card for easy access. The battery also recharges from an AC or USB cable.
In all the smart technology of Tascam DR-1, Portable Digital Recorder by Teac is revolutionary, pocket-size and affordable for all of us musicians. Recording a concert, your garage band, writing music and putting down tracks anywhere for your successful band can be easy and not a headache. My choice is the DR-1, Portable Digital Recorder.
The End Line
Teac's Tascam DR-1 is the perfect investment for your music future. It may not have all the full features as Tascam's Portastudio, but the DR-1 is still a more-than-average handheld recorder. It's a helpful tool that allows you to capture your favorite riffs and ideas quickly and conveniently. It's simple to make high-quality recordings that can be accomplished anywhere and set up within minutes. The Tascam DR-1 is a high tech songwriter's dream with an inexpensive price tag, it's a bargain at 299.00 retail.
TASCAM DR-1