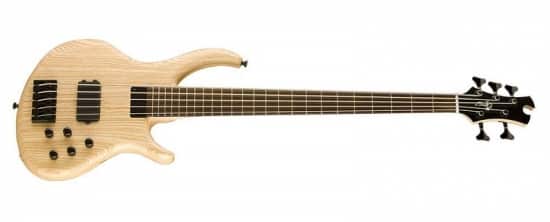 Gibson Tobias Growler Bass Guitar–Started by renowned luthier Michael Tobias in the mid '70s, Tobias basses have always found their way into the hands of world-renowned bassists like Mario Guini, Bootsy Collins, Volley Craig, Jimmy Haslip, Dave Baumberger, Del Atkins, Dave Pomeroy, David Bonk, Dean Back, Duane Propes, Kern Brantley and Vernon Heard. 30-plus-years-later, the quality and precision of a Tobias bass has reached new heights in the 2009 Limited Run Series Tobias Growler from Gibson Guitars USA.
How is the Tobias Growler constructed?–Beginning with the bass' solid, multi-piece swamp ash wood body, the Tobias Growler bass is one of the most resonant basses ever constructed by Gibson USA. Swamp ash tonewood is characterized by vast, open pores and soft layers, which give each Growler a deep, full and reverberation of tone across the entire frequency spectrum. The Growler's tone is unique and hard to match. Like all the guitars from the Limited Run Series, only 350 Growler basses will be produced and distributed. Each guitar comes with a rugged black Gibson hardshell case and each will have its own exclusive Limited Run Series certificate of authenticity.
How does the Tobias Growler sound?–The Tobias Growler gets its power from one of the finest bass pickups in the business. A quad-coil, 5-string bass pickup from Bartolini delivers an enriched resonant frequency range, along with more air and definition at the top end without sacrificing its mids and low end punch. The pickup is cast in epoxy to remove any unwanted microphonics and feedback. A separate pickup-blend control allows you to sweep between all four of its coils for limitless tonal possibilities that are on tap. Additional controls include the volume knob, and separate treble, mid and bass controls.
How does the Tobias Growler play?–The Tobias Growler features two key differences. First, Gibson enhanced the Growler's truss rod by making it bi-directional. The new, fully adjustable "Quad Bass" truss rod allows players to adjust the Growler's neck in both directions for almighty precision. Another great feature that integrates well with the bass, and what is arguably the guitars' best overall enhancement — the revolutionary Plek system setup. The Plek is a German-made, computer-controlled machine that thoroughly measures each fret, along with the fingerboard height under each string, and then automatically dresses each fret, eliminating string buzz and improving the guitar's action. Every fret is accurately aligned, and the bass is properly intonated, leaving the instrument "Plek'd" for maximum playability.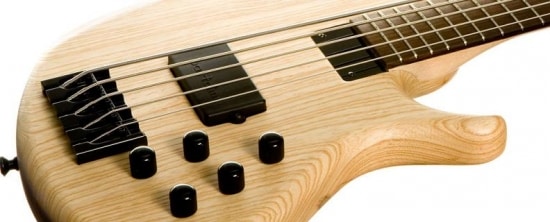 What, more enhancements?–Other key feature of the Tobias Growler is the change from using a bolt-on neck to gluing it in place. Gluing the 34"-scale length neck to the body of the bass ensures an exact "wood-to-wood" contact, leaving no air space in the neck cavity to ensure maximum contact between the neck and body. The neck and body function as a single unit, resulting in longer sustain and better tone. The neck is constructed from pure maple with purple heart laminate for a creamy feel and comfortable playability. It is matched with a 24-fret rosewood fingerboard without inlay markers or binding. Without a doubt, Gibson did this right. Too bad there is only 350 being made.
Advertisement—————————————
—————————————————————
Tobias Growler Bass Specs:
Body:
Body Style: Tobias Bass
Body Species: Swamp Ash
Hardware:
Plating Finish: Black Chrome
Tailpiece: 5-String Bass
Tuners: Grover Bass
Electronics:
Bridge Pickup: Bartolini
Pickup Covers: Yes
Controls: 1 Volume – 1 Pick-up Blend – 1 Bass – 1 Mid – 1 Treble
Control Knobs: Black Knurled
Control Pocket Cover: Black Plastic
Neck:
Species: Maple/Purple Heart Laminate
Nut: Corian
Nut Width: 1.750 +/- .050″
Headstock Inlay: Tobias "T Vine" Logo
Truss Rod: Adjustable "Quad Bass" Truss Rod
Truss Rod Cover: Tobias Black Cover
Fingerboard:
Fingerboard Species: Rosewood
Number of Frets: 24
Scale Length: 34″
Plek Setup: Yes
Price:
MSRP: $3,053
Places to Buy………………Check for Price.
For more information:
gibson.com