The 600w BX600 ($399) and 1200w BX1200 ($549) offer the bassist tone that extends the ability of the player. Three EQ sections extract all the tone your instrument can deliver – whether your bass is active or passive. String definition becomes so articulate that every note is distinct with defined punch and attack. Perfect pitch is now definable because the accuracy of your instrument is fully transparent thanks to the distortion free class A preamps. Switch any of the EQs for radical or subtle changes. Coupled with high current linear amps, you have the authority of pure bass being transmitted to the audience that cab be felt. When it's time to go off stage or change basses just tap the Mute switch. The BX1200 includes a bi-amp crossover feeding the dual power amps, so bi-amping is accomplished with the push of a button. Features include: an adjustable Compressor/Limiter keeping your level consistent, a Direct XLR output with level, footswitch controlled effects loop, EQ and a tuner output.
Made in America at Carvin's San Diego factory, every BX amp is personally tested. Rugged to the core with metal knobs and FR4 fiber glass cards with SMT technology to keep everything from shaking loose. The BX series is lightweight at only 32 ib in a 2U rack chassis. It comes mounted in a multi-ply cabinet or pull the BX1200 out to rackmount.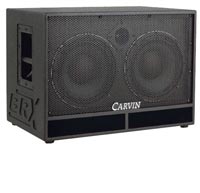 To run the BX600 or BX1200, you'll want to check out Carvin's BRX Neo Enclosures Speaker Cabinet. Neodymium magnets are so strong that each lightweight BRX new driver provides the same magnetic field as huge conventional ceramic magnet, so it's no wonder Neo's are the favorite among bass players. More important is their full range, deep tone that comes from in a computer tuned 13-ply hardwood enclosure. Both the BRX10.2 ($374) and BRX10.4 ($549), are tuned down to 28 and 26 Hz respectively, reaching below the low B string frequency. The new, high powered 1" titanium horn driver delivers another 2.5dB output that makes your highs defined. Experience the new standard for bass guitar.