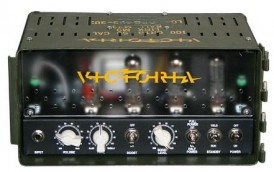 Victoria Amplifier was thrilled to demonstrate the new VIC105 amplifier on video for us all to see (watch video below). Victoria Amps went military-style with this unique looking rugged guitar amplifier.
Here's what Matthew Clark and Jeremy Lemos had to say about the Victoria VIC105 Ammo Can Head:
"We knew that we needed an amp that had powerful sonic, visual and industrial attributes" says Clark. "The VIC105 is so perfectly integrated to this end, that it?s astonishing. It's equally valuable as an artistic expression as it is a ultilitarian one. It's just brilliant!" Lemos added, "The VIC105 is ideal! It has wit, soul, and tone! It's a blessing to utilize it in White/Light."
The VIC105 is an all tube, all purpose amplifier hand built in Naperville IL by Victoria Amplifier Co. The VIC105 features dual EL-84 power tubes which are switchable from 5-10 watts. An all-analog tunable boost function provides a limitless variety of sonic possibilities. The VIC105 also features a 12AX7 preamp tube and a 6CA4 tube rectifier. Each VIC105 is built into a refabricated US military surplus 50 cal. ammo can for unparalleled industrial good looks and protection.
Discuss the VIC105 Ammo Can Head at www.gear-monkey.com guitar forum.