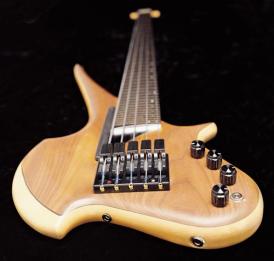 First there were magnetic pickups, hex pickups for guitar synth, and piezos for that acoustic guitar sound. Now there's LightWave Pickup System from Audio Optics, Inc. The LightWave is a departure from conventional magnetic pickup technology.
Photodetectors use infrared illumination to measure the shadow cast by each vibrating string. This optical signal is then converted into an audio output. Meanwhile, each string is also "felt" by a piezo signal in the bridge, which contributes other components to the string's sound. The bass player controls the blend of these optical and piezo outputs, and selects among 15 presets EQ settings for a wide range of tone colors. The LightWave is rockin' in 4-, 5-, and 6- string basses. With acoustic-electric guitars to follow the lead. Your ears will be amazed at what your pickups are "seeing". https://www.lightwave-systems.com
Gear-Vault Classifieds is an eBay alternative. Come sell your guitars and amps with us, for free!
Advertisement————————————
————————————————————