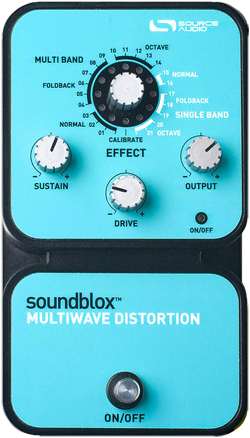 Source Audio Soundblox Multiwave Distortion
Rock guitarists like distortion. How is that for an understatement? More specifically, rock guitar players eat, breathe, and sleep distortion. Many of them even have more than one on their pedalboards. There are also some that run more than one pedal simultaneously. Yeah, it seems that distortion is an integral part of the tonal diet of the rock musician.
But what do you do when you have tons of distortion pedals, but no more room on that ever-expanding pedal board? Easy – you downsize your setup.
Downsize may indeed sound like a dirty word to many guitarists, but there are benefits to getting rid of those three extra overdrives. For starters, your setup is easier to carry to gigs. But more importantly, you can fit new distortion boxes into the chain! Of course, with fewer pedals, you lose the possibility of quite a few different tones. What is a rocker to do?
Enter the Soundblox Multiwave Distortion pedal from the electronic gods over at Source Audio.
What makes the Soundblox Multiwave Distortion worthy to sit on your board? Easy. This sucker packs a wide variety of distortion tones, dished out by a SA601 56-bit Digital Signal Processor that has 24-bit A/D D/A conversion. What does that mean? It means an unbelievably large palette of sounds from slightly crunchy to ridiculous at best.
This pedal has a whopping 21 types of distortion, sure to please any fuzz-hungry gear hog. Not to mention, the Soundblox Multiwave Distortion uses distortion algorithms that are totally different from your normal digital distortions. The pedal gives you the ability to control the single- and multi-band distortions, giving you more freedom with your tone.
One of the other features that make this pedal different than other 'normal' distortions is the Foldback and Octave sections, which give you yet more control of your distortion tone, allowing you to dial in some wicked sounds. Let's put it this way: if you want a unique distortion pedal that can do some seriously whacked-out sounds, the Soundblox Multiwave Distortion is definitely for you. You can even tweak the pedal to give you some funky wah and synth distortion sounds.
If you are in need of a versatile (and way out) distortion sound check out the Soundblox Multiwave Distortion pedal from Source Audio. You will most likely be glad to replace at least one of your other distortions with this thing.
Here is Soundblox Multiwave Distortion Pedal video demonstration

Here is another Soundblox Multiwave Distortion Pedal video demo