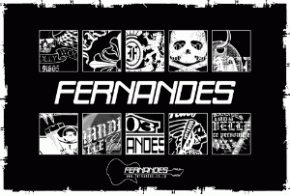 Although its body is reminiscent of a chubby Fender Jaguar; the Fernandes Native Elite is a decidedly modern guitar with a little hi-tech voodoo-namely Fernandes' proprietary Sustainer technology, which offers virtually limitless sustain and rich, controlled freedback. Based on the company's highly popular alder-bodied Native Standard, the Fernandes Native Elite features a basswood body with a faux flame top in a black burst finish and a 25-1/2" scale maple bolt-on neck. The comfortably full, rosewood-capped neck is smoothly fretted and sports the locking nut portion of the Gotoh made, Floyd-licensed trem system. The generous pearloid pickguard houses the electronics, which include two humbuckers governed by a three-way switch, master tone and volume controls and the Sustainer system.
While the humbuckers crank out respectable clean and rock sounds, it's the sustainer that promotes tongue-lolling astonishment. The Sustainer transducer is actually one half of the neck pickup and is activated by two small switches. When switched on, the system uses a battery-powered electromagnet to vibrate the strings, much like an E-Bow system does. The tone can be modified with the second switch, which has settings for standard, harmonic and mix. The first setting simply sustains the fretted note and works well for clean swells and chordal textures, while the second setting produces harmonics often an octave higher and excels at stratospheric, violin-like leads. The third setting mixes harmonics with the fundamental note for a rich, complex tone similar to controlled, harmonized feedback. A separate level control governs the effect's overall intensity.
Far from sounding gimmicky, the Sustainer system sounds downright incredible. When used in conjunction with the tremolo system, it spit out a Scooby-Doo diving into the nearest potted plant. As a standard guitar, the Fernandes Native Elite is a well-built guitar, sexy piece of rock and roll. With the sustainer, it becomes a living, breathing demon that will put fire up the ass of all your old, lame riffs.
Fernandes Native Elite Hands-On Demo