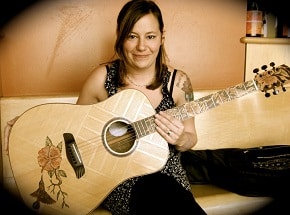 In 2007, a company was formed in Canada that aspired to build custom-order guitars using materials and craftsmanship from Bali, with Canadian fit and finish. Enlisting the traditional woodcarving skills of Bali's finest craftsmen, they produce guitars that are an amazing and unique combination of art and music. Some would label them "boutique" guitars. Everyone else just calls them Blueberry.
Let's face it – 2007 was not a great year to start up a business, especially one that would be dealing with such high overhead costs and would be asking a rather exorbitant sum in exchange for their products. The following sentences are not for the faint of heart: An acoustic Blueberry Grand Concert costs around $8,000, while a standard dreadnaught will run you about $3,000. A double-neck acoustic guitar lists for $45,000. The Blueberry electric bass fetches $8,500. A recreation of the first Blueberry electric guitar (the Fierro) has a $28,000 asking price. The Devil electric sells for $6,666, for those of you who aren't superstitious.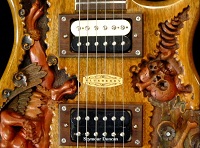 Every step and piece in the process must satisfy the exacting standards of the company's founder, Canadian businessman and musician Donny Fonfeder. Along with Balinese master woodcarver Wayan Tuges and luthier instructor George Morris (who opened his own school in 1983), they strive to meet the expectations of customers who are willing to shell out a ton of money for a guitar that can take months to complete. The results, most reviewers can only conclude, are astonishing.
As such, Blueberry has only made around a thousand instruments so far, with a tiny percentage of them being electric guitars. The company has only recently begun replicating its earliest models, like the Fierro, as well as "Gods", their third electric guitar (made in April of 2010), which features New Zealand Langcaster pickups and Gotoh tuners, and has Hindy Gods carved into the front of the mahogany body in painfully exquisite detail. The stunning inlays in the fretboard and headstock are made of Mother of Pearl and Balinese White Angel wood.
As an entry-level model, Blueberry offers an acoustic "travel guitar" in the $600-$1,000 range, which will deliver on a small scale the master woodcrafting found in their dreadnaughts. Even with the relatively low price tag, Blueberry will still take their sweet time filling the order, with an expected wait time of four to five months.
All three of the company's principal players undertook a monumental task in choosing to build guitars in Bali, with its limited power supply, not to mention a hot and muggy climate that is hardly ideal for the purpose of building stringed instruments. Between a healthy supply of timber and a tradition of woodworking that is ingrained in the culture, though, it still made sense to fight through the beautiful island's natural challenges.
The process of melding musical instruments with works of art is one that comes with an inordinate amount of scrutiny, especially with so many exceptional guitar options in those price ranges. Blueberry guitars have to be able to deliver sound quality that will be comparable to the high-end releases by Martin, Taylor, Larrivee, Gibson and other guitar makers.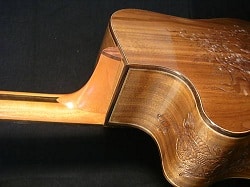 Blueberry acoustic guitars really have no peers when it comes to the beauty and detail involved in their signature woodworking, and physically speaking, they bear a close resemblance to the Larrivee models and have a similar ring that is strongest on the tenor side. The spruce and mahogany bodies, completely set with glue, are sturdy and well-built.
There is some question about how well some of their "grooved top" acoustic guitar models will hold up, although they have received glowing reviews thus far; they utilize strong Alaskan spruce tops that are cut to standard thickness prior to grooving. Some speculate that with time and use, the grooved tops could weaken and become susceptible to damage, or may suffer from loss of tone and resonance. Only time will tell, although Fonfeder expresses nothing but optimism.
The electric guitars remain a bit of a mystery in that so few of them have been built. Even with Seymour Duncan pickups (or the aforementioned Langcaster single-coils), you'd have to taste the Blueberry pudding in order to determine how the ornate woodcarving out of the solid body might alter the tone of the instrument – after all, there's got to be a reason why the electric guitar body has stayed true to material form throughout the duration of its existence.
Blueberry will be happy to fill online orders, and business is now booming for them as their products have gained more notoriety. For those who really need to put their hands on a guitar before they can make such a drastic financial commitment, there are Blueberry-authorized dealers in New York, California, North Carolina, and Florida, as well as in Canada, and even one in Taiwan. They also sell elaborate, hand-carved wooden guitar stands, which sell for around $250.