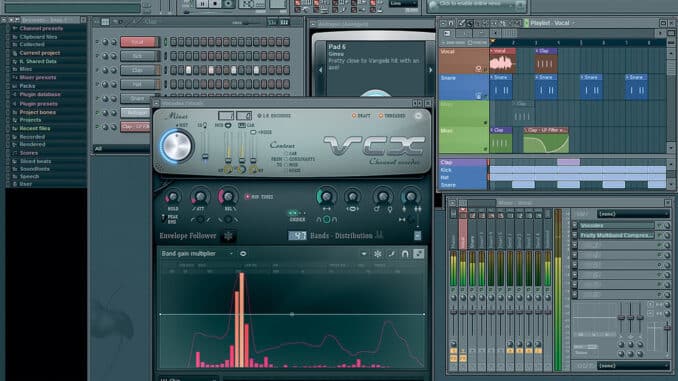 Various types of recording and mixing software have been on the market to consumers for a long time, but few have stood up to the test of time and stayed on the market very long. Imageline's FL Studio 9 is definitely an exception. FL Studio began its life back in 1997 as a simple midi sequencer with very few options. Today the program is a full-fledged digital audio workstation capable of everything from simple demo tracks to full blown studio album projects.
FL Studio 9 is the most recent release from Imageline. The program offers literally an endless amount of creative control to the user. The program consists of five main components: The Playlist Editor, The Step Sequencer, The Piano Roll, The Browser, and the Mixer. The playlist editor is used to arrange audio clips. The step sequencer is used to create loops and sound clips in conjunction with various audio generators and synthesizers found in the browser. The piano roll is used to create complex riffs with the audio generators found in the browser. The browser is the place to look for sound clips, synthesizers, as well as various effects like reverb and delay. The mixer is probably the most important of the five components as it is used to route audio into the program from an external microphone or guitar amp.
The ease of use is what initially attracted me to the program. The first thing that I did was check out the manual which is written in an easy to understand way with little technical jargon. After messing around with a free demo of the software from the Imageline website, I was astounded at the simplicity and overall user friendliness of the program. After setting up my soundcard to route audio to the FL Studio Mixer, I had my first guitar track recorded. I was blown away by how crisp the sound of my guitar was recorded. After recording a few tracks I began to peruse the vast library of effects that FL Studio had to offer; Again, I was blown away by the plethora of effects in the library. About a week later I purchased the full version of the software for about $200.00.
Beyond the vast array of synthesizers, audio generators, drum machines, and effects that come bundled with FL Studio 9, there are several other plugins that work well with FL Studio. FL Studio 9 supports both DXI and VST plugins to push the limits of the software even further. Anteres Autotune and Native Instruments Guitar Rig 4 both work fabulously with the program. For the most part DXI and VST plugins are a separate purchase, but there are several websites out there that offer freeware DXI and VST plugins.
In sort, FL Studio 9 is a feature rich, intuitive piece of software that would be an excellent choice for producers and performers from the hobby level to the professional.
FL Studio 9 Image-Line