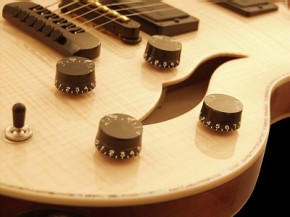 Semi hollow body guitars also known as semi acoustic or semi solid guitars are essentially electric guitars which offer a best of both worlds of sorts. They were created especially for players who wanted the resonance of a hollow body while having the feedback resistance, bite of the solid body guitars. As it has a solid block of wood running through the center with hollow body "wings" on both sides. The result is what is now popularly known as the Semi-hollow body guitars.
Semi-Hollow Body Advantages
As said above, the semi-hollow body can offer the best of both the acoustic while negating on the feedback issues that are seen at higher volumes, along with the bite and sustain of a solid body. Some other of its advantages includes, has a thinner body than standard acoustic guitars, allows hollow-body like resonance and is lighter than a solid-body.
What is a Semi-hollow body ideally suited for
Guitarists along many music genres have preferred the semi-hollow body guitars for their jazzy hollow-body resonance coupled with the punchy rock and roll type music. Semi-hollow body guitars are used across:
Country – Roy Clark
Rock – Alex Lifeson, Dave Ghrol and Chuck Berry
Pop – Roy Orbison, Noel Gallagher, Carl Wilson
Blues – Freddie King, B.B. King, Otis Rush
Jazz – John McLaughlin, Larry Carlton, Lee Ritenour
Soul – Travis Wammack, Dennis Coffey
Prominent Semi-Hollow Body Guitars
Gibson ES-335: This was the first most successful hollow body guitar to hit the market. Many variations of this design have been inspired as a result.
Gibson ES-339: This is a smaller version of the Gibson ES-335.
Epiphone Dot: The Epiphone Dot is a low cost version of the Gibson ES-335 and offers the tone which has become a favorite with blues and rock players.
PRS SE Custom Semi-Hollow: Has a tone which is distinctly high end in bite.
Gretsch Duo Jet: Includes routed chambers which offer better acoustic resonance.
Ibanez AS73: Has an adjustable bridge and humbucker style pickup.
Fender Telecaster Thinline: Has routed chambers with a solid center body. Offers excellent resonance and is also pretty light.
Italia (Brand): Has a big line of pretty well known Semi-hollow body guitars.