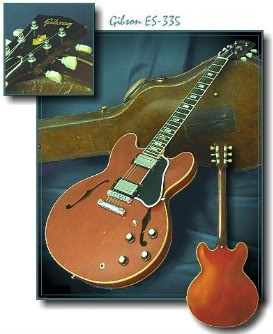 In 1958, Gibson brought the ES-335 into the world in response to Jazz Players whose hollow-bodied git-boxes howled with feedback. Looking very much like a traditional thinline hollow body, the 335 had a center block of maple that cut feedback while it spawned a far-flung family of subtle, genetic variation, such as Gibson's Vintage ES-345, ES-347, ES-350 and ES-355 models, Epiphone's Sheraton, Casino and Riviera guitars and a slew of close relatives and out-and-out clones by virtually every guitar maker in existence.
Looks are certainly a big part of the semi-hollow guitar's appeal. It has all the earmarks of legitimate luthiery: an arched top, a set neck, even an f-hole or two. The big, lower bout feels like a traditional acoustic instrument under the arm of the player. Yet, that center block moves the sound away from warm and plunky jazz tones and right into solid-body territory. Think of it as a sexy little Les Paul in a fat jazz dress, and you're pretty much on the mark.
The models were rounded up for review share a number of common characteristics. Scale lengths are all 24.75 inches on necks set into maple-ply bodies, headstocks are all symmetrical with three-to-a-side tuners and nut widths are all 1.6875 inches. In addition, all of our review models feature dual humbuckers, dual volume and tone controls and three-way pickup selectors.
Stay tuned for hollowbody reviews. (Washburn HB-35, Epiphone Riviera, Gibson ES-135 Limited Edition, Heritage 500 Series Academy Custom and Samick SAT650)
Gibson ES-335