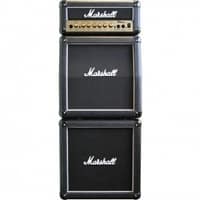 Marshall MG15MS Lead 15 Micro Stack
The Marshall Micro Stack measures just 37 inches high and features 15 watts of sound and a built-in spring reverb. Twin gain controls are provided for the preamp as well as controls for master volume, bass, treble and contour. The MG15 has two speaker cabinets—one angled and one straight—each loaded with a 10-inch custom-voiced speaker. The amp also has a headphone jack, which mutes the load speakers when engaged, a CD input and line-out hack.
Marshall MG15MSII Microstack is a complete Marshall stack that will fit into any room. The amplifier is based around the MG15CDR and features two channels, spring reverb and Marshall's proprietary FDD (frequency dependant damping) technology. Supplied with two 1 x 10 inch speaker cabinets its looks and sounds great. The dream of owning a Marshall stack has now become a reality!
Marshall MG15MSII Micro Stack