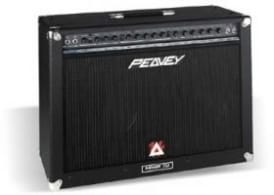 The Ranger 212 was a nice addition to the Peavey lineup, featuring an all tube power amp that kicks a bodacious 120-watts into a pair of Peavey's vintage-style "Blue Marvel" 12-inch speakers. The Ranger's dual-channel circuitry is set for classic clean-and-dirty work, and excellent reverb and vibrato effects are on tap as well.
The clean channel lived up to its designation, remaining free of any distortion through most of the volume knob's rotation. The treble control demonstrated strong resonance around 2.5kHz, and dominated the tone-shaping duties. The mid and bass controls affect the sound somewhat less, and while this may put off players seeking low-end womp, it makes an ideal sound for chording or playing country leads.
The lead channel's pre and post controls shape its overdrive voicing. Even at its cleanest (pre: 1, post: 10), this channel's fatter voicing and desire to spank came through. Upping the pre to 5 and backing the post to 4 coaxed some grind from the Ranger, but in this twilight zone, the highs were harsh and "gargly" and simultaneously generated excessive subharmonic distortion. Setting the pre to 8 and the post to 2 produced much more realistic and full distortion, with a bright and scooped crunch that was particularly good for over-the-top soloing or playing sheets of saturated chords.
Peavey's addition of resonance and presence controls to the power amp section is a nice touch. The resonance adds a rounder bottom end while the presence helps to control the extreme highs, and both become more useful as the overall volume increases. With a switchable effects loop and 120 watts at your disposal, the Ranger is a hefty hunk of a versatile amp for your back. Sadly, the Peavey Ranger is no longer in production but can be found used. Keep an eye on Gear-Search for used music gear. I would recommend checking out the Peavey TransTube Special 212 combo guitar amplifier.