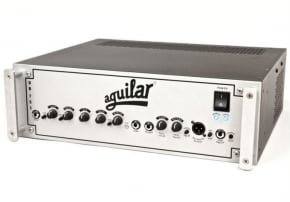 Aguilar Amplification is proud to announce the release of the DB 751 bass amplifier. Aguilar President Dave Boonshoft notes that, "This amp is a logical evolution from the DB 750. The DB 751 gives you access to a myriad of great bass tones thanks to its powerful and flexible EQ".
Features: The Aguilar DB-751 features an all-new state-of-the-art hybrid preamp system that combines the renowned tube-driven tone of the DB-750 with active boost and cut for greater EQ control / response. According to Aguilar, the DB-751 produces the perfect blend of raw power, heart-felt punch and distinctive tone. Delivering a mighty 975-Watts at 2 ohms and 750-Watts at 4 ohms, this amp has the headroom you need to perform at any size venue.
The Price: The DB-751 is expected to carry a MSRP of $2695 and will be available at Aguilar dealers May 2009.
End Line:
Aguilar Amplification is the legendary manufacturer of high-quality bass amplifiers, speaker cabinets and accessories for bassists. It's no coincidence with Aguilar's high-standards, set out to carry on the legacy of the prominent DB-750.
Aguilar DB-751