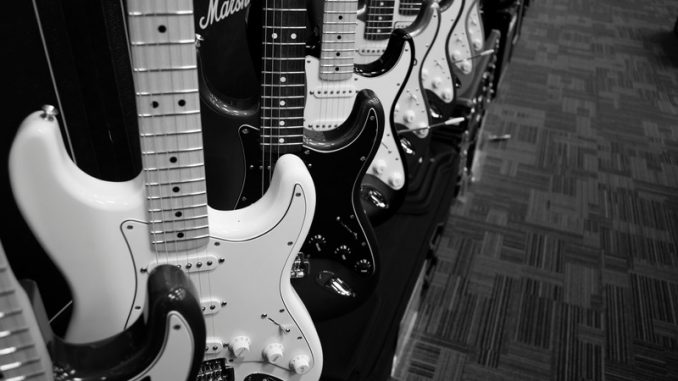 Rock history has proven time and time again that where electric guitars are concerned, you don't have to break the bank to bust onto the charts. Certainly, a fair share of hit albums have been recorded with instruments that cost more than most used cars, but a remarkable number of legendary discs have also been tracked with extremely inexpensive instruments that produced equally stunning results.
Edward Van Halen, for example, recorded his most memorable work with an axe thrown together from leftover and discarded parts. Kurt Cobain owned (and destroyed) a few fine vintage Fenders, but he spent most of his time playing sturdy, burly imported Strat copies. James Hetfield stormed through Metallica's garage days equipped only with a no-name flying V copy. There's no doubt about it: cheap gear can produce great sounds.
Of course, it would be untrue to say that many inexpensive guitars wouldn't be better off being recycled as kindling (the same is true for many high-ticket six-strings), but as manufacturers have learned to beef up the quality control and manufacturing techniques in such places as Taiwan, Korea, Indonesia and Mexico, the number of perfectly suitable low-cost instruments being produced has skyrocketed.
There are certain areas in which inexpensive axes fall short of their more costly brethren: the woods used are less expensive and the bodies are often made of three or four pieces instead of one or two; the hardware (especially the tuning machines) is usually not top notch and the pickups do not yield the same tonal complexity that one would expect from those in more expensive guitars.
But this roundup of six electric guitars listing for under $350 proves that there are inexpensive instruments out there that can get the job done with flying colors. They're not toys, nor are they fretted mockeries suitable only for green beginners who don't know any better. These are serious guitars, producing serious sounds—at seriously affordable prices.
Epiphone Special II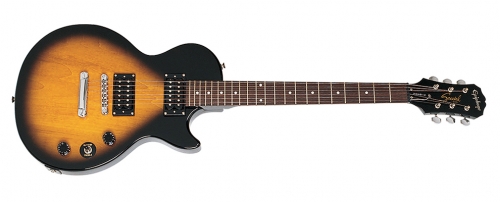 The "Made in China" Epiphone Special, brought to you by the fine people at Gibson, is an axe with more cajones than a stampede of raging bulls. Within its laminated alder body lays the soul of a true rocker, and a pair of punchy Alnico-5-equipped humbuckers is the perfect vehicle to convey the guitar's inner flame. While the Special looks like a Les Paul and features the standard Paul Tune-O-Matic stop tailpiece bridge configuration, its bolt-on neck construction yields a zingier, more articulated sound than the traditional set-neck design common to many high-ticket Gibsons. The 24 ¾-inch scale neck, which features a rosewood fingerboard and 22 well-dressed frets, instantly feels like an old friend, and the simple control layout (one volume, one tone, and a three-way toggle switch, all located on the guitar's lower bout) is easy to access and utterly idiot-proof.
The Special sent to us for review was finished in an appetizing cherry sunburst and was generally well constructed. The only area in which Epiphone clearly cut corners is in the tuning machine department; truly basement bargain nature—but hey, the guitar stayed in tune, so who am I to complain? There's also one area where Epiphone should have cut corners a little more exactingly—the neck joint. The workmanship is marginal, and it was easy to insert a business card in between the neck and body. These few quibbles aside, the Special is an excellent guitar that will serve its master- or mistress—well. If you're looking to get on that Gibson flava for not too many Benjamins, or you need a backup guitar for that band-busting Les Paul you love so dearly, this is definitely the way to go.

Squier Standard Stratocaster

If it looks like a Fender Strat, feels like a Fender Strat, sounds like a Fender Strat, even smells like a Fender Strat, then it must be a Fender Strat, right? Well, not exactly: this is a Squier Strat, but besides the different name emblazoned on the headstock, one would be hard pressed to identify it as such.
Made in Indonesia, the Squier Standard is a superbly constructed instrument with a timeless look. Similar in feel and look to the Fender American Standard Strat except that it has a vintage-style bridge and cheaper tuning machines, the Squier boasts a solid agathis body (not the lightest of all woods, as our test model confirmed), a maple neck and rosewood fretboard. The Standard, which has a relatively modern fretboard radius and meaty frets, plays well; string bending is a breeze, chords are easy to grab and Yngwie-inspired flurries of rapid-fire notes peel off effortlessly. The three imported single-coil pickups are not terribly complex but yield excellent Hendrix and SRV style tones. Players who cut their teeth on punk metal might find the bridge pickup a bit thin for their needs and will want to look into replacing it with a humbucker pickup of some sort. If you're in the market for a Strat, there is no reason why this guitar couldn't be your Number One for years to come.
Yamaha Pacifica

Great Neck. It's a rare thing to pick up a guitar in this price range and instantly get that spine-tingling "great neck" feeling. Necking with the Pacifica's maple, however, is truly a special event, and the ergonomic contouring of the alder body makes the experience all the more comfortable.
But enough sexual innuendo; let's get to the facts. Hailing from Taiwan, the Pacifica 112 displays no visible construction flaws and features bolt-on neck construction, three Yamaha pickups (a humbucker in the bridge and two single coils in the middle and neck positions), master tone and volume controls and a vintage Strat-style bridge that actually keeps the guitar in tune relatively well when it is subjected to a brutal dive-bombing tremolo-arm assault. The single coils which, like Strats from the mid-Seventies and early Eighties, do not have staggered pole pieces, have a very bright, funky quality that's perfect for tight snapping grooves and chick pickin' but might leave some bluesmen and rockers yearning for a little more oomph. The bridge humbucker also yields remarkable clarity but pays the price by sacrificing a little fullness. Die-hard crunchers might want to change the pickups, but this guitar is so well built and playable that it would be worth the effort.
Washburn Idol Series WI14

Because it has a three-on-a-side headstock and an unusually compact body shape, the WI14 feels shorter (from the tip of the peg head to the butt of the body) than other guitars we tested. While it might feel awkward at first to some players, this instrument is a godsend who are "vertically challenged," short-armed (that's not a joke; many short-arm players I know simply cannot play Gibson SGs because they can't reach the first fret) or who may not have hit their final growth spurt yet.
Our Contestant from Indonesia, the WI14 features a basswood body, a maple neck with a rosewood fingerboard adorned with asymmetrical dot fret markers and die cast tuners. The guitar is also equipped with a Tune-O-Matic stop tailpiece and has Washburn dual double humbuckers that deliver an impressive tone. The minor flaw of this guitar is the compact size. With that said, this is a versatile, well-constructed instrument with above average hardware that's impressive for a guitar in this price range.
Agile ST-802

Some guitars bring out the best in you, and the Korean Agile ST-802 did just that for me. I had no idea that I could still play those sweep arpeggios, but the Agile's superb playability, fast rosewood-capped Canadian maple neck, and the smooth feel just brought it out of me. Maybe it was the glint of the white 2-ply Pearloid pickguard, or the sleek design headstock or the Sunburst finish over the solid (and heavy) alder body. Maybe it was the convincing tones from the bridge single-coil or the creamy sounds of the neck and middle single-coils. Who knows?
For any number of reasons, the ST-802 is worth a serious look, as it combines high-quality parts (Grover tuners and Wilkinson tremolo) into one amazing little package. This is a winner, pure and simple. See this guitar at RondoMusic.com
Samick / Greg Bennett Malibu MB-1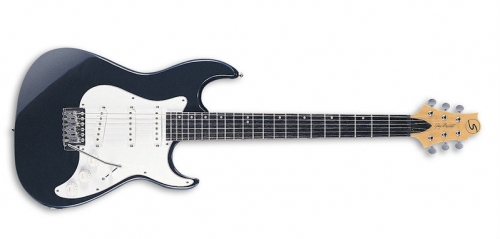 Last, but certainly not least, the Samick Greg Bennett MB-1 has the distinctions of having been designed by California's Valley Arts Guitars, the same fine folks who created high-quality custom instruments for the likes of fusion ace Larry Carlton and Toto guitarist Steve Lukather. Thanks to their insight, the MB-1's light sculpted body combines a contoured neck joint and deep treble horn to provide unhindered access to all 22 of the guitar's well-dressed frets. The neck has a flat/wide feel that will prove instantly familiar to shredders but might require some adjustment for players accustomed to more substantial "baseball bat" designs.
The MB-1, which features a vintage-style bridge and high quality Grover tuning machines, comes equipped with three reasonably ballsy Duncan Designed single-coil pickups that yield all of the required Strat-o-sounds. If fast and sleek is your game, then this could be the one for you.