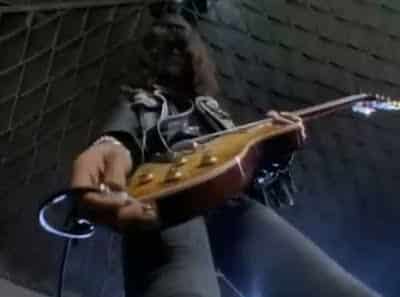 The guitar riff is central to rock and roll as we know it. A great intro riff identifies and emboldens a song and kicks the band (and the crowd) into overdrive.
Rock history is filled with riffs that have changed the world and it is all of our jobs to learn to play as many of these as we can.
That's how we learn what greatness really is and how we absorb the vocabulary needed to craft our own riffs and songs.
The question most often asked by my students, though, is "Where do I begin?" At this point, so much has happened in rock music since its inception in the 1950's that choosing which songs to focus on can be overwhelming.
Well, once again, here comes Gear-Vault to the rescue. Through much scientific testing and field research, we have distilled rock riff superiority down to a list of ten riffs that every savvy guitarist should be able to whip out at a moment's notice, if ever their rock credentials are called into question.
Who are the top 20 Guitarists of all time?!
These riffs have stood the test of time and have become large parts of our common language.
Master each of these songs from beginning to end (including solos) and you will be well on your way to having the skills to possibly get one of your original riffs into a list like this someday.
Can't play ANY of these on guitar? Go home and practice.
10 – "Johnny B. Goode" Chuck Berry. This is where it all began.
Berry is the reason rock songs have guitar solos and is the real King of Rock and Roll. Every electric guitarist should be able to play this intro at the drop of a hat in the proper key (hint: it's not in A).
9 – "Pipeline" The Chantays. Original surf music at its finest. It's cool, minor key style informed much of the genre that came after it and holds up much better today than many of its contemporaries.
8 – "Satisfaction" The Rolling Stones. Arguably the first use of a fuzztone on record, this was Keith Richard's attempt to play a horn part, but ended up being so much more.
7 – "Sunshine Of Your Love" Cream. This was Clapton's strongest statement in his early period and remains a swaggering, muscular example of blues/rock riffery.
6 – "Purple Haze" – The Jimi Hendrix Experience. Hendrix defined the blueprint of the modern rock guitarist and "Purple Haze" remains the definitive Jimi track. Just learn it.
5 – "My Woman From Tokyo" Deep Purple. So much sweeter than the over-done "Smoke On The Water" figure, this was an instantly memorable riff from Ritchie Blackmore, one of rock's greatest ever.
4 – "Hell's Bells" AC/DC. "Hell's Bells" just oozes menace and instantly commands attention. Play this right and all eyes will focus on you.
3 – "Smells Like Teen Spirit" Nirvana. This is the riff that killed the 80's and let the 90's begin. Even if you are not a Cobain fan, it is impossible to deny the impact this song had. It should probably be in your back pocket somewhere.
2 – "Paranoid" Black Sabbath. Sabbath wrote the textbook of heavy metal early on and if you are going to learn their music, this is the best place to start. Didn't learn this one in high school? Shame on you.
And the number one Must-Know Rock Guitar Riff is…..
1 – "Whole Lotta Love" Led Zeppelin. It doesn't get much simpler and heavier than this. Get past its uncluttered approach and become one with the vibe, which will rock any house anywhere, any time. If you can't play this, can you really call yourself a rock musician?
(Honorable mention "Sweet Child o' Mine" by American hard rock band Guns N' Roses)