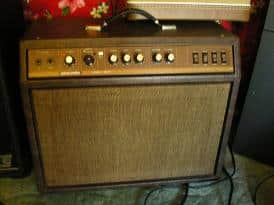 Acoustics' AC series consists of three amps which differ mainly in their power ratings. The AC 1800 sits in the middle of this range, offering 300 watts per channel in 8-ohm stereo configuration, and up to 1400 watts at 4 ohms in bridged-mono mode. Frequency response is a reported 10 Hz-20kHz.
The sturdy chassis seems rugged enough to handle serious abuse. Like the other models that we will be reviewing soon (Peavey PV 2000 and Crown CE 1000), the 47-pound AC 1800 lacks handles, though they can be purchased as a separate option: rear panel rack ears are included for additional support. Since power amps generate lots of heat, cooling is vital to their performance. The AC1800's fan is conveniently located on the front panel, with air exhausts on the sides to aid rack mounting.
If you plan to use the amp in a mobile rig, you'll appreciate that the important controls are accessible on the front panel, including a group of LEDs that indicate active status, signal present, clipping and whether "protect" (a speaker-saving feature) is engaged. The AC 1800 uses two types of automatic protection: ACL, which senses clipping and reduces the output to safe levels; and IMG, which senses load impedance and adjusts the circuit to match the speaker load.
Connections are made at the back. The inputs include ¼-inch balanced/unbalanced TRS jacks and a barrier strip, while the outputs consist of five-way binding post connectors that accept banana plugs, bare wire or spade lugs, making the AC 1800 easy to install in any system. The switch that toggles between stereo and bridge-mono operation is also on the back, out of harm's way.
The Acoustic produced moderate ambient noise and delivered a clean signal to the speakers. Plus, it didn't pop on power-down. Tested with a pair of JBL 4208 studio monitors, it delivered punchy lows and very crisp highs.
The End Line
It may no be laden with chic features, but the simple but powerful AC1800 offers a solid combination of convenience and hassle-free performance.