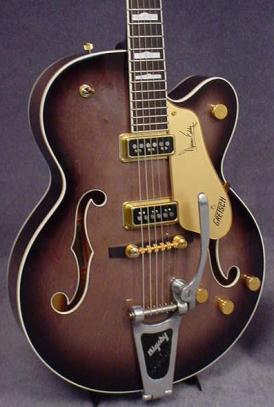 The Gretsch 6120 is the ultimate lean, mean rockabilly machine. Look no further than the recordings of Eddie Cochran, Gene Vincent, Chet Atkins (for whom the guitar was originally designed) and Brian Setzer for aural testimony of what this buxom hollowbody can do. Then, of course, there's Duane Eddy, who, relying heavily on the 6120's factory equipped Bigsby vibrato, more or less defined what's come to be known as "twangy" guitar. At the early-Sixties apex of Eddy's mainstream popularity, his film noir-like "twang" could be heard everywhere, perhaps the best example being his 1960 hit with the Henry Mancini-penned theme to the television show Peter Gunn.
Gretsch's 1997 Duane Eddy 6120 was a near-faithful reproduction of the 1957 instrument that has been Eddy's main axe for 41 years. Essentially, it's a stock 6120 from that year, with the standout feature being a "flat bar" on the Bigsby that hasn't been available for decades prior to the re-release. The 16-inch, three-inch-deep body is almost completely hollow, with one-piece laminated maple sides bound with white and black purfling that also surrounds the guitar's f-holes. The guitar's 24 ½-inch scale neck is two-piece rock maple with a brass nut and a bound, 22-fret ebony fingerboard that meets the body at the 14t fret. Players who regularly work out in the upper registers won't exactly find the 6120 easy to move around—there's definitely not much access to the guitar's upper reaches—but this is still a super-easy guitar to play. Overall, workmanship is top notch throughout, with excellent playability and intonation, despite non-adjustable bridge saddles.
This instrument differs cosmetically from the original Chet Atkins signature model in that it doesn't feature any cowboy-pleasing appointments such as western-themed fingerboard inlays or a giant "G" branded on the guitar's top. The Duane Eddy features gold-plated brass hardware throughout, except for the Bigsby tailpiece. Electronics center around two single-coil DynaSonic pickups that excellently approximate the bright "airness" of the legendary DeArmond types used on the original 6120s.
Of course, aside form that gleaming, golden hardware, this guitar truly shines when you plug it in. The neck pickup produces Fender-like snarl mated with a hollowbody guitar's throatiness. Adding the bridge pickup yields more highs, while employing the bridge pickup exclusively gives you ore of a straight-ahead rock sound. The 6120's Bigsby vibrato, thankfully, doesn't throw the guitar out of tune, and as long as you don't expect it to divebomb, it will add style and character to your hottest licks..
The End Line
The Gretsch Duane Eddy 6120 DE is a legendary classic made from 1997 to 2000. Ultimately, playing the 6120DE is pure ecstasy, almost revolutionary. These are becoming harder to find but if you do find one, embrace yourself for some true twangabilly tone, nothing else will do.
Buy – Sell – Trade at USED MUSIC GEAR at GEAR-VAULT CLASSIFIEDS