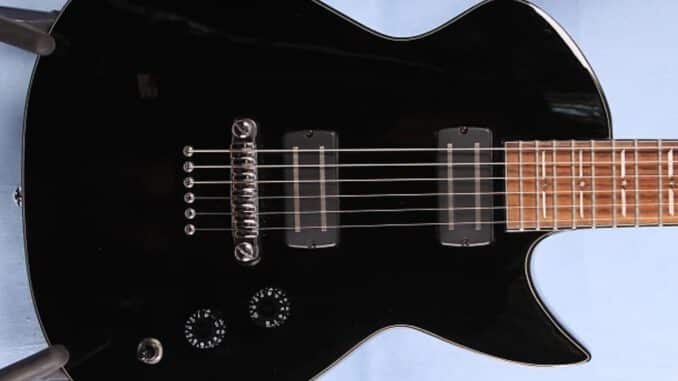 When you consider that Ibanez has produced more than a thousand guitar models, it's no surprise that the company delivers high-quality instruments at an affordable price. The sound, look, and performance of Ibanez's Arondite and Art series are as sleek as they are reliable. Since recent years, it's difficult to compete with "Made in China" Ibanez guitar's from both the quality and price standpoint. Their quality control is phenomenal.
Our review model is a sleek black Arondite ADC-120
Features: // 8
String-thru construction, a mahogany set-in neck, attractive-eye-catching star position inlays, Ibanez bar pole piece style humbucker pickups, and a Gibraltar III bridge. The electronics include a 3-way Switch, a volume, and a tone control, dual humbuckers. Overall I would give this a 9 for the simplicity and sleek looks. It's a very clean and practical guitar.
Sound: // 7
Playing through a Marshall 8100 Valvestate and a Mesa Boogie Recto 2×12 cab, and jamming out some classic rock, rock, and hard rock, the tone is articulate and punchy yet articulate. The neck humbucker carries a melodious rhythm/lead, however, I do find the pickups a bit trebly, so you'll want to adjust the amp's EQ accordingly. If you play heavy metal, this guitar can also pull that off with ease.

Reliability & Durability – Action, Fit & Finish: // 8
Set up was spot on. The action and intonation is perfect, all it needed was to be tuned up after it arrived. The pickups were good to go, while not the hottest thing I've played, for a $299 brand new guitar, they're exceptionally well. Overall the fit and finish is really nice. If you played this guitar before seeing the price tag, you would easily mistake it for being a much more expensive model. I was impressed with the finish and sound from this guitar, the low price tag makes it even better.


I only had the review model for a couple of days, but I have not discovered any serious issues as of yet. The one area that could use a little attention is the tuners, a better set of tuners would make this guitar great to outstanding. Due to the simplicity of the design, fewer bells and whistles, I would think there isn't much to go wrong with this guitar. Reliability & durability would seem excellent if it had better tuners. // 8
Ibanez Arodite Playability: // 9
The Arondite ADC-120 is a very versatile instrument with it's lightweight and slim-shaped neck. Personally, I'm more of a rock / rhythm player, however, my buddy who is an absolute shred monster was suitably impressed with the playability of this guitar as well. As stated above, it's easy to confuse this guitar as a much more expensive instrument than the price tag says.
Ibanez Arodite Final Thought
The Ibanez's Arondite series guitars compare favorably with guitars costing two, three and even four times as much. They offer such an incredible value that they'll make you forget the recession. In fact, most of the Arondite models sell for street prices that will leave you with a change from your economic stimulus check.
The body is uniquely in-between a Les Paul and an Explorer
Strings-thru-body with 3D-adjustable bridge
Thin-style (60's) mahogany neck with rosewood fingerboard and star Mother-of-Pearl / Abalone inlays
Made in China
22 frets
Laminated top
3-way-pickup selector switch; 1 volume control; 1 tone control
Two passive alnico humbuckers with bar magnets
Ibanez Arondite ADC120 Guitar Video Review