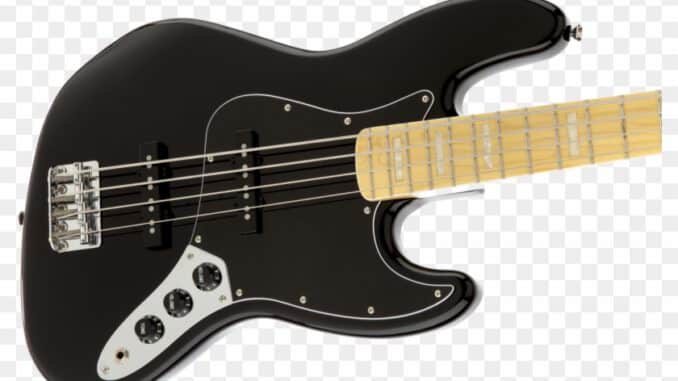 The Squier Vintage Modified Bass is well known as a fantastic starter guitar. Produced by Fender, it is well priced and with today's build quality, it can play a range of sounds from P-bass to the smoother warmer jazz sound.
The Squier range is known for its affordability and the vintage modified bass represents a stepping stone for those who need a balance of sound, reliability, quality feel and cost. Modeled on the 70's Fender basses, it is built from a soft maple body and one-piece hard maple neck. The body is made of two pieces which are glued together and with a satin finish rather than a gloss. The neck is thin and easy to hold, just like a jazz bass should be, although the knobs are a little low in quality. But the overall package is what gives this superior quality and sound over basses in this price range.
The Squier Vintage Modified Jazz Bass is a more versatile guitar with a lot of really good sounds, due to the combination of the standard bridge, two passive Duncan Designed pickups, and a master tone adjustment. You can play with the tonal control which helps you create various pitches to suit your playing style and surroundings. The pickups are one of the highlights about this Squier Vintage Modified Bass, as the bass has that real jazzy vibe to it. For the money, there are no complaints about this.
The Squier Vintage Modified Jazz Bass comes straight out the box ready to play, its strong build-quality means it can handle the stress of concerts without the need to bring a backup. Its body is hard wearing and any sweat can be wiped clean off, it can also take a the bangs and knocks during transportation and in shows; overtime this will give the guitar that genuine relic'd look and feel (for those of us who are hardcore).
Some positive points are: The Squier Vintage Jazz Bass has a good finish, the sound is excellent, the pickups and the vibe is spot on. It has a classy feel and appears to be higher priced than it actually is.
Some bad points are: Poor quality knobs, and the neck is a little soft and can dent a little easier than it should.
So whether you are into jazz, punk, rock, or any other genres and you need an affordable bass, the Squier Vintage Modified Jazz Bass is the guitar for the job. It fits well with modern day musicians and also suits anyone recapturing the seventies style. The finish wears nicely over time and does not fade, giving a truly "vintage" look. Buy this guitar and you will not be disappointed at all as it is definitely one of the best bass guitars for under $300 bones.
Squier Vintage Modified Jazz Bass Guitar