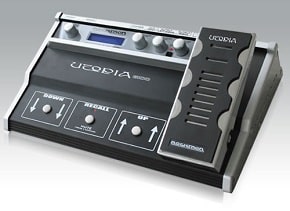 Floor-mounted guitar multi-effect units are unrivaled when it comes to stow-and-go convenience, but too often that convenience comes at a price. Most pro-quality units with rugged construction and versatile performance capabilities can cost as much as a good amp, while many affordably priced units have severely limited parameters and tones that aren't quite good enough for stage use. For many guitarists, dreams of a compact, rugged multi-effect unit with an affordable price tag and a reasonable selection of professional-quality "meat-and-potatoes" tones seemed as unattainable as a perfect society.
With the Utopia G100 Professional Guitar System, Rocktron hopes to prove that dreams can become reality. This compact multi-effect floor unit is built like a tank, packed with an impressive selection of versatile effects and priced less than what you'd pay for a boutique stomp box. Unlike many other low-priced multi-effect units, which seem to suffer from a "jack of all trades, master of none" design, the Utopia G100 is designed to deliver the tones, effects and features that matter most to guitarists and operate in a streamlined and straightforward fashion.
COOL FEATURES
The Utopia G100'S top panel features just three footswitches (down, up and recall/select), four knobs (preset select, parameter adjust, parameter select and function select), a preset store button and a built-in expression pedal, but this economical setup makes selecting and programming sounds exceptionally easy. The stripped-down back panel has a mono guitar input, stereo outputs, a 1/8-inch auxiliary input, and a 1/8-inch headphone output.
The heart of the G100 is a powerful 24-bit Motorola DSP engine that provides six fixed effect configurations/algorithms, all featuring preamp, delay, and reverb sections and adding either chorus, flanging, tremolo, pitch-shifting, wah or phase-shifting effects. No matter which preset you select, the speaker simulator and Hush noise reduction are always available. During recording sessions, you can enable the speaker simulator globally for use automatically on all presets or program it to be active on individual presets to provide extra tonal enhancement when performing live.
To program or tweak effects, select the desired effect with the function select knob, select the desired parameter with the parameter select knob and make adjustments with the parameter adjust knob.
The preamp offers a selection of four channels with different distortion characteristics (Clean, Texas, British, Mega), a Variac Adjust parameter that adjusts the level where the preamp distorts, bass, mid, treble and presence EQ, and bright and scoop parameters for the Clean and Mega channels, respectively. Depending on the effect, three to 14 parameters can be adjusted to customize sounds, and presets can be saved in 64 user locations. Up to two parameters per preset can be assigned to the expression pedal, and you can adjust the upper and lower limit for each parameter controlled by the pedal.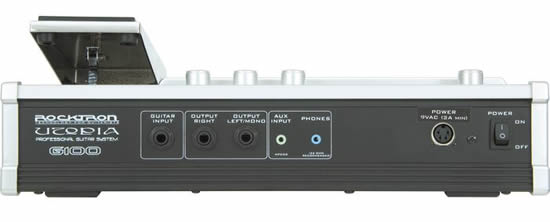 ROCKTRON UTOPIA PERFORMANCE
While many inexpensive multi-effect units sound like stripped-down stomp boxes, the Utopia G100 produces distortion tones that rival the sound of many amps. The high-gain British and Mega preamps cover a wide frequency range and deliver rich, complex harmonics that provide lively, expressive sound. The preamp makes it easy to achieve lifelike amp tones with the G100 connected directly to a recorder, and this feature alone is worth the price for guitarists with home studios.
Using the G100 in live performance requires a bit of forward-thinking, as you'll need to "cue up" the next desired preset with the footswitches before engaging it with the recall footswitch. The expression pedal is a welcome addition, especially for a multi-effect unit in this price range, as it provides control of volume, wah and even "whammy" pitch bending effects. If the pedal feels too fluid or stiff (as my test unit did), you can adjust the tension nut on the axle screw to suit your preference.
The G100 may not feature every guitar effect ever conceived, but most of its effects are versatile and sound as good as many individual pedals or studio rack processors. It may offer only one type of reverb effect and not include a built-in tuner, but at this price, you can certainly afford to add an extra digital reverb pedal or tuner to your rig.
THE ROCKTRON VERDICT
The Rocktron Utopia G100 is worth the price of admission for its stellar distortion tones alone, and if you're looking for a versatile distortion unit that can also double as a direct recording device, it's a must-have. Add in eight other pro-quality effects, plus Rocktron's Hush noise reduction, speaker simulation and heavy-duty construction, and the G100 offer unbeatable value. Thanks to GuitarWorld for the report.
ROCKTRON UTOPIA G100 DEMO VIDEO
by GuitarWorld