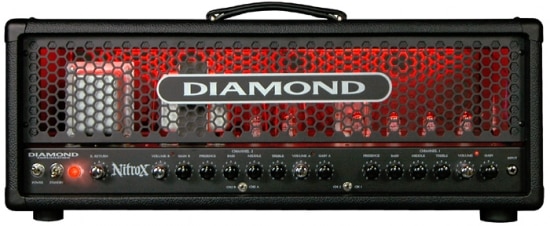 The Nitrox head by Diamond Amplification is the company's most aggressive offering to date and is built with the same level of quality as all the other products in the Diamond line. The Nitrox is meant for rock players who need the over-the-top amount of gain and super tight lows that the amp offers. It also focuses on ultra-smooth upper-mids to let the amp cut through an on-stage mix with ease.
The Nitrox is a 100 watt, EL34-based affair with two independent channels, a tube-driven effects loop, and an included two-button footswitch. Channel one is Diamond's much-lauded clean side and provides all the shimmer and sparkle any player could want. Channel two is the dirty side that is based on Diamond's signature dual volume/gain design, which lets players select two different gain-oriented sounds and access both on the fly.
The Nitrox also features a real, correctly-designed effects loop. You don't need a foot switch; you don't have to push a button. Just plug a cable into the effects send and the loop activates. The loop is tube buffered and will not affect your tone.
The front panel features a master volume, which reads E. Return (effects return). When the loop is on, the E. Return knob acts as the amp's overall master – turn this knob up or down to increase or decrease the amps overall volume. When the loop is off, each channel's volume control acts as that channel's master volume. This is a very cool approach, one that will allow effect users to get the most out of their outboard gear, while keeping their guitar sound pure.
Like all Diamond amps, the Nitrox is built to a high standard of quality, using only the best components and construction techniques. Each component is selected and tested for each amp in the line. The Nitrox runs on six 12AX7 preamp tubes and four Svetlana EL34 power tubes.
The Nitrox also features a perforated metal grille made from 16-gauge steel on the front and back, metal knobs, and LEDs mounted in the head cabinet to give it a distinctive red glow onstage. This is an outstanding amplifier for any rock or metal players out there looking for a new flavor of grind. Stop by your nearest Diamond Amplification dealer and take one for attest drive today.
Diamond Nitrox Amplifiers & Zoltan Bathory of Five Finger Death Punch