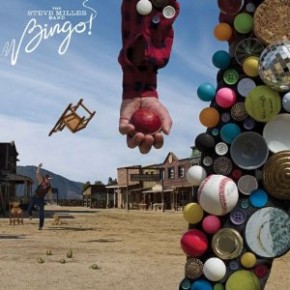 Most fans of popular music know guitarist/vocalist/songwriter Steve Miller as the leader of The Steve Miller Band, who hit after hit in the wild and wooly 1970's. There was a time when it was hard to turn a radio on without hearing one or more of Miller's iconic and groovy numbers, from "Fly Like An Eagle" to "The Joker" to "Take The Money And Run". While those songs will always be in rotation on classic rock radio stations the world over, many fans might not realize that it has been 17 years since Miller has released a new studio album. Well, Miller's faithful will be happy that the wait is officially over.
Miller's latest recorded effort is Bingo! and the disc is a journey through the type of blues and soul music that Miller drew on for inspiration in his coming-up years. What it is not, however, is another old-guy blues cover album featuring pat recreations of worn-out standards. While many of the tunes here will be familiar to fans of the blues, what Miller has done, with the help of his band and special guests like Joe Satriani, Michael Carabello, and Jose Areas, is turn these songs into a set of rocking, feel-good, frat-party goodness, all with a little bit of the old Space Cowboy magic that made it all work back in the day.
Bingo! is also not a record for the blues purists of the world. Miller takes every song here and makes it his own and the sound really becomes blues/rock more than anything else. Great songs were also chosen for the project and, in a situation like this that is at least half the battle. Miller pulls from writers like Jimmy Vaughn ("Hey Yeah"), Jimmy Reed (You Got Me Dizzy"), and others, even doing a great job on Otis Rush' aching "All Your Love (I Miss Loving)".
The record is full of outstanding playing and is beautifully recorded, but what really makes it work is Miller's personality. He has always had his own sound and even in this setting, playing what, in this day and age amounts to traditional music, Miller's vibe is easy to recognize a mile off, especially when he sings lead. His voice reminds many of us of some of our greatest radio moments of days gone by and it nothing but good to hear Steve Miller back at it again, as strong as ever. Fans of Miller and good-time rock and roll will want to make Bingo! a mainstay of their summer 2010 soundtrack.
Discuss: The Steve Miller Band @ www.gear-monkey.com music forum. Also, win a Fender Stratocaster signed by Steve Miller.
Steve Miller Band: Bingo!