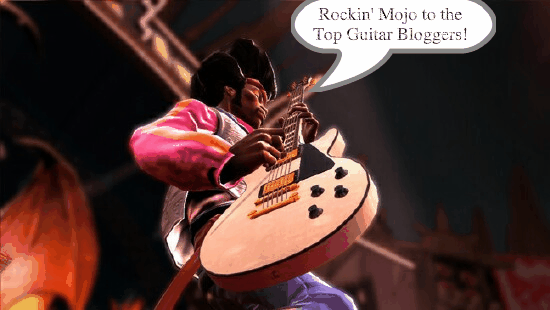 Update: *Many of these guitar blogs since outdated and shut-down as of 1/20/20
!**!! Stay tuned as we research and find more NON-SPAMMY and useful blogs. Many guitar websites out there [as of 2020] are spammy "affiliate" websites who just publish fake "top 5" and "Best xxxxx" bullshit for click $$ revenue. I recommend never clicking links on a blog you DO NOT like. !!**
Originally published July 30th 2009:
Though Gear-Vault is a committed webzine, an all-in-one resource musical instrument palace, we strive to supply matter-of-fact information and music gear reviews for musicians researching straight forward, no fluff, no frills wealth of knowledge.
With that said, we also enjoy surfing and reading some of the over-populated guitar blogs that can be found plastered all over the interweb when we're killing time, and if you, the reader, has the patience and don't mind spending the time and energy digging through authors muck and useless personal opinionated force-fed bloats, you will eventually find a diamond in the rough that actually supplies some knowledgeable and useful information. Gear-Vault has been secretly auditing guitar blogs around the blogoshere for the past 6 months. We took the liberty to compile the best guitar blogs which do not fall into the laziness of posting useless garbage and personal bio-hazard poo, here they are listed for you.
Gear-Vault's Top 10 blog picks:
Dolphinstreet — Robert Renman (dolphinstreet owner/writer) is probably one of the most straight forward and down to earth writers in the blog community, period. He's a no bullshit, tell it how it is, a straight shooter. No fluff, no BS. A personality trait that you'd expect from a person in Alberta, Canada.
iheartguitarblog — iheartguitar is making waves not only online, but in print. This blog is pure professionalism. His content is very well written and the writer (Peter) flows with knowledge, and his website's name [iheartguitar] is the perfect name for Peter, because he truly does love guitars. Read his blog and you'll quickly see how passionate he really is. Keep up the good work Peter!
Stratoblogster — Personality. Stratoblogster flows personality and gives a sense of wholesome and kindness in every post JP publish. JP displays great knowledge and writes captivating material that not only makes you think "wow", but also makes you want to read more. Time goes by very quickly when reading stratoblogster. I tie this blog evenly with iheartguitarblog.com.
Fretbase — Fretbase is only a year old and are making a splash in the music community across the web. These guys are the real deal and I expect them to upgrade to a Webzine and be our competitors one day. That's okay, we love challenge! If you have not bookmarked Fretbase, I suggest you do it now. Keep up the good work guys.
Musicgadgets — This site is a bit strange, they don't seem to come out much and their template is a bit bland, but they do get big props for posting useful matter-of-fact information. I hope they come out and network in the music community a bit more. Show face fellas, your website made Gear-Vault's Best Guitar Blog list! NO LONGER UPDATED
…. Okay wait! Where are the 10 best blogs? Our intention was "Top 10 Guitar Blogs", however there isn't 10 useful blogs out there, only 5 rockin' blogs that totally grabbed our attention. We rate these guitar blogs with complete professionalism and are held to the highest regard. If you are a guitar blogger or want to start a guitar blog, take lessons from the aforementioned guitar blogs. These guys are the real deal and will be successful beyond the blogosphere. These guys get it! Don't feel bad if your blog didn't make it, it is hard work and not for the faint of heart. Keep up the good work guys, we solute you! Please feel free to join our Guitar forum at Gear-Monkey.com Forum.