Busch Lied About Sam Bass Conversation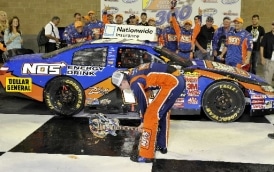 Sam Bass, the longtime NASCAR artist who painted the Gibson guitar smashed by Kyle Busch after the Nashville Nationwide Series race on Saturday night, said he was stunned and heartbroken to see his work destroyed in victory lane.
Though Busch immediately told Bass he meant no disrespect to anyone the artist, Gibson or the track Bass said Monday hes struggled to accept the incident. Its like raising a child, Bass said. You start out with nothing and you finish it and you hope people will take care of it. And it was stunning, absolutely stunning to see that thing destroyed within seconds of him getting it.
Bass said Busch told him he would order two more guitars from Gibson to be painted like the one that got smashed, and the artist said he understood the rock-star thing Busch was trying to accomplish. Its his trophy, he can choose to do with it what he wants, Bass said. But I'm not going to lie about it. If he had asked me, Hey, I'm thinking about destroying that trophy guitar whenever I win it, what do you think, of course I would have told him, No! Please don't. Let us give you a prop guitar.
The Gibson guitar has become the symbol of Nashville Super-speedway, and the one Busch smashed was the 30th designed by Bass, who said the trophy has come to be a very revered piece of history and revered by the fans here in Tennessee. Seeing Busch smash the guitar after getting out of the car upset both fans and sponsors. Bass noted that representatives from race sponsor Federated Auto Parts walked out of victory lane after the Busch act.
Bass estimated that he and Gibson put hundreds and hundreds of hours of work into the guitar, which is so unique that you cant just buy this thing right off the shelf. A guitar might be a guitar and he might have seen rock stars destroy them and things like that, but at the same time, this is a trophy, Bass said. You wouldn't think he would destroy the Daytona trophy or the Brickyard trophy or something like that.
What was he trying to accomplish by smashing the race trophy, a beautiful Gibson Les Paul guitar?

He is not Kurt Cobain or Eddie Van Halen or Pete Townshend or Keith Richards. Hell, he's not even Nick Jonas.

Unless you are trying to dramatically cap off a rock show in front of tens of thousands of fans, don't smash a guitar. You just end up looking like a douche-bag.
This is much more than just a guitar somebody plays at a concert and beats the hell out of when they're done. It symbolizes something much bigger, much greater and that's the part I don't think he thought all the way through.
After the race, Bass smiled in pictures with Busch and told reporters he was OK with Buschs' actions. He said his feelings haven't changed and he has no interest in criticizing Busch for what happened, preferring instead to stick to a personal philosophy of always taking the high road.
Source: scenedaily.com
Guitar Smash Video