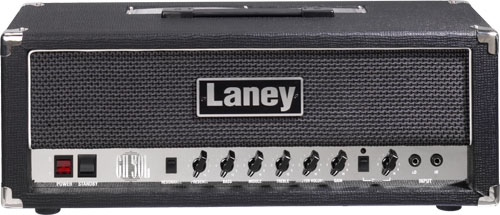 Laney amps, like their British brethren Orange and Marshall, have been around since the dawn of time, at least in rock and roll terms, and have helped to shape the sound of rock music and influenced the tones many of us strive for. One of Laney's current and most toneful offerings is the GH50L head.
Much like the Marshall JCM800, the GH50L is a single-channel master volume situation with a foot-switchable gain boost. This makes it capable of a wide range of sounds, from sparkly clean to classic crunch to full-on distortion overload. It has a valve-couple effects loop, slave jacks for linking multiple heads together, and runs on ECC83 and EL34 tubes in the preamp and power amp sections, respectively, but can be easily switched over to 5881's.
Laney designed the 50 (50-watt) to be paired with their 4×12 speaker cabinets, the GS412IA and the GS412IS, which enhance the tonal range of the amp and make getting great tone at any volume a breeze. Those prone to experiment with speaker cabinets should be able to match up just about any cab on earth to the Laney, as the back panel has connections for 1×16 ohm, 2×16 ohm, 1×8 ohm, and 2×8 ohm configurations. Authors note: If 50-watt isn't enough power for your madness; see the Laney VH100R
While the GH50L can cover a great deal of sonic territory depending on how the end user dials it in, it excels at producing AC/DC and Zeppelin-style crunch, which should come as no surprise to anyone who has ever played a Laney in the past. Laneys have always delivered the goods when it comes to this kind of sound, and the new 50 is no exception.
The single-channel design limits it a bit as far as on-stage flexibility, but this is clearly an amp aimed at the player who doesn't need the extreme sound-switching that is possible with a modern, true three-channel head. Also, the footswitch is not included, so plan on popping a few extra bucks for one if it is important to you. Overall, the GH50L is an excellent head for rock and blues players to consider and test-drive. If what you want is an amp to give up classic British sounds without breaking the bank ($1499.00 MSRP), this just might be your new amp. scroll down to find special buys
Laney GH50L Video Demostration