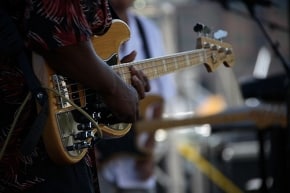 I love the blues. Blues was my favorite music for many years and I have played it, listened to it, supported it, and written about it. I also realize its historical importance as one of the four table legs that hold up the last 100 years of American music, the other three being jazz, country, and early rock. There is, however, a question that gnaws at me about the blues from time to time and, since this is my gig, I wanted to pose it to you, my faithful Gear-Vault readers and that question is this: why won't the blues evolve?
I receive a great many blues CDs to review for the different magazines and websites I contribute to and 90% of them seem to be some sort of attempt to re-create verbatim the type of playing that blues players were laying down 50 years ago. There seems to be little support for artists who want to go beyond the well-established museum style of blues playing and bring this wonderful music into our current century and, just maybe, give it a place in the current marketplace. There seems to be this attitude that the old ways of the blues need to be preserved or they will be lost and this leads to umpteen records released each year that are all about sounding like Muddy, Buddy, B.B., Wolf, and the rest of the greats did decades ago.
Now, before you get upset, please realize that I am making my case for this in an effort to help this music survive, not kill it. What I want to see is blues music become commercial again, to be on the radio and television, and to assume its rightful place in the world, not to be some roped-off corner of the musical universe that is only open to those that imitate not innovate. Consider the fact that rock, jazz, and country have moved beyond what was going on in the 1950s and are still viable forms in the modern-day.
These music styles each have a traditionalist segment of their supporters, but also have current performers in their midst doing things that appeal to today's audience. I mean, you might not love Nashville radio country, but at least there are country music radio stations playing music in most markets. When was the last time you encountered an all-blues radio station? I live in Chicago, the home of the blues, and stations here, if they play any blues at all, are lucky to dedicate an hour weekly to the blues in a special show and hardly ever play blues in regular rotation. Why is this so? To me, it's because there are only so many people can take of the same old thing.
The funny thing about this preservationist attitude in the blues scene is that it is trying to preserve music that was quite cutting-edge in its day. Anyone standing on a stage in the '50s with a Fender guitar and amplifier was as modern as could be. Muddy and Wolf weren't trying to re-do music from 50 years in the past; they were doing their music their way for the audience that was standing right in front of them. Now, I get so many CDs of the old rumpty-rump shuffles and slow blues that I honestly can't tell most of them apart. Why can't someone play slide guitar over a hip-hop groove? Why are there no blues songs with lyrics about what modern people are feeling, rather than another twist on "Dust My Broom" or other classics from the past? I think there is plenty in modern life to give people the blues so why is no one writing about it and, if they are, why is no one supporting it? Music, like our verbal language, has to evolve and remain current and relevant to the people who are going to be listening to it to maintain a spot on their musical radar, end of the story.
What I hope posing this question accomplishes is to start some discussion about what is going on in the blues scene and to give anyone who has a desire to put out a unique take on the blues to have the confidence to put their vision out there. I encourage anyone who might be doing something different from the blues to post a link to their music and let the world hear it. Let's start getting the blues the recognition and the modern audience that it deserves and really help to keep it alive and get it off the sidelines of the marketplace. That is, to me, at least, the best way to honor the legacies of the great performers who got this whole ball rolling. Innovate something; that's what they did.
Blues Guitar Lessons