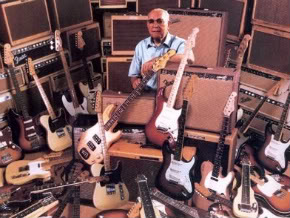 Before Leo Fender came along, the solidbody electric guitar was little more than a gimmick. No other person did as much to develop this "gimmick" into one of the most important musical instrument of the 20th century.
Born in 1909 on a farm in Anaheim, California, Clarence Leo Fender opened a radio repair shop in nearby Fullerton in the years just after Word War II. He gradually segued into building electric guitars and amplifiers, and launched the company that bears his name in 1948.
In the years between 1948 and 1954, Leo Fender designed the Telecaster (the world's first successful mass-produced solidbody electric guitar), the Precision Bass (the world's first electric bass guitar) and the Stratocaster (for many, the world's coolest electric guitar). These instruments embodied a design aesthetic that broke radically with tradition. Products of the post-WWII age of mechanization, they were affordable yet elegant tools for the average-income musician.
The Tele, P-Bass and Strat, along with Leo Fender's tube amplifier designs, made their appearance just as a brand new style of music called rock and roll was being formulated. They became and integral part of rock's sound, and have been taken up by major players from every subsequent rock generation, as well as guitarist in many other musical genres.
Leo helmed the design of the Jazzmaster (1958), Jaguar (1962) and many other classic Fender models before selling the company to CBS in 1965, citing ill health as his reason for doing so. By 1971, he was back in action, however, as head of a new company, CLF, designing amplifiers for MusicMan and guitars for G&L, further developing and refining the "Leo Fender style."
A down-to-earth and highly industrious man, Fender left behind a prodigious legacy when he succumbed to complications associated with Parkinson's disease on March 21, 1991. He was laid to rest at Fairhaven Memorial Park in Santa Ana, California.