Page 1 | Page 2 | Page 3 | Page 4 | Page 5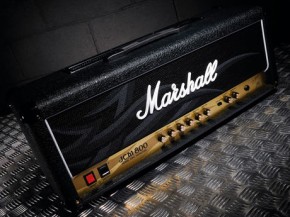 Did you really think number one on the list was going to be anything else? When it comes right down to it, Marshall IS metal. Marshall invented that sound we all love and is still building great amps today.
Notice that I didn't select any particular model; that is by design. Pretty much any tube-powered real Marshall will let you get your rock on, though I do prefer the JCM800. Some might need a pedal in front, some you can drive with preamp gain, some are big and a few are small, but they all have that Marshall sound that we know as the sound of rock music. Plus, they are the ultimate in cool, being seen for decades behind the biggest names in rock from Judas Priest to Ozzy to anyone else who ever mattered, really. Think about it: when you were in high school, did you ever dream about standing in front of a wall of Peaveys? I don't think so.
Marshalls can be stripped down and simple like a Plexi (reissue or vintage) or featured-out and flexible like the new JVMs, with four channels and 12 modes for ultimate tonal control. The new Vintage Modern heads strike a nice balance between modern features and old-school British tone and will make many rockers quite happy. If your music has anything to do with hard rock or metal, a Marshall amp needs to be a serious consideration.
Marshalls are one of the basic food groups of rock and roll, along with Les Pauls, leather, tattoos, and beer, and have been the amp of choice for players like Jimi Hendrix, Jimmy Page, Michael Schenker, and Kerry King. If they work for those guys, they can probably make an amp that will work for you. If you can't make it happen with a Marshall, maybe you just aren't quite as metal as you think you are.
Marshall JCM800 2203KK Video