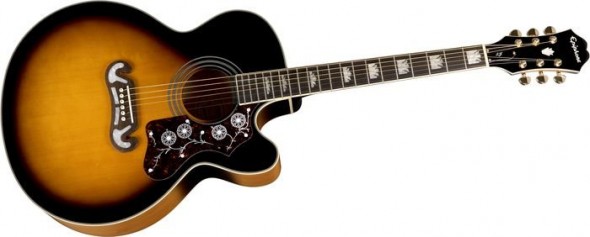 The Epiphone EJ-200CE Acoustic-Electric guitar is a classic that has been around for generations. This guitar has the melodious sound of an acoustic that is paired with the power of an electric guitar, so you have the best of both worlds in your hands. Perfect for a live gig, the electric-acoustic guitar can give you a sound that reaches even the largest audience, without sacrificing the sound that fits your style best.
Features of the Epiphone EJ-200CE Acoustic-Electric
This Epiphone EJ-200CE acoustic-electric guitar has a classic body shape, with rounded corners, gold details, and a maple body. The maple body is combined with a rosewood fingerboard and a maple neck for a high-quality guitar that you can play for years to come. The guitar is built on a 25-1/2 scale and has a larger body than some other acoustic-electric guitars that you can find on the market today. The guitar also boasts studio-quality sound, thanks to the selection of tuners that are built into the guitar.
Playing Your Epiphone Acoustic-ElectricThe Epiphone EJ-200CE Acoustic-Electric guitar has built in NanoFlex technology, which means that the guitar is more sensitive to your strumming than other guitars may be. The vibrations of the strings allow the pickups to pass the information onto the seven layers of sensors that lie under a super-thin pickup. This technology ensures your audience hears a truer sound from your guitar every time that you play. The sensitivity of this guitar is one of its biggest advantages, but there are also other great features that make this an excellent acoustic-electric guitar.
The Epiphone EJ200-CE Acoustic-Electric guitar will show you exactly what you can expect from this guitar. The body is just as light as a traditional acoustic guitar, but the sound is just as powerful as an electric guitar. The controls on the guitar include a built-in tuner that helps transition to electric smoothly, a preamp, and a chromatic tuner. The guitar can be played without plugging into an amp if you are playing for practice, and is designed to have the classic acoustic sound even when playing the guitar without amplification.
[ Epiphone EJ-200CE Acoustic Electric Guitar ]
This is an excellent guitar that gives you an acoustic-electric sound without the price tag that some other classical guitars have. Priced at around $450, the Epiphone EJ200-CE Acoustic-Electric guitar is definitely a guitar that can exceed your expectations without breaking the bank.
Epiphone EJ-200CE Acoustic-Electric Guitar