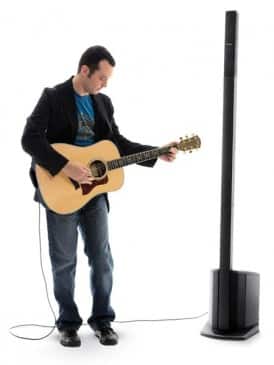 A new direction in live sound. . .
The introduction of the Bose L1 Model I system in 2003 marked a revolutionary new approach to live sound. By combining monitors and PA into a single system musicians are now in control of one common mix for the stage and audience. The L1 system's interlocking components can be set up in minutes so musicians can spend time focusing on what is important–the music.
In 2007 Bose evolved this concept even further. The L1 Model II system with T1 ToneMatch audio engine provided an even higher degree of tone-shaping ability offering access to a 4-channel mixer, updateable ToneMatch presets library, integrated effects, and dynamics processing. When you use L1 portable line array systems, you can go to the gig, set up quickly, control the mix, and focus on the music. Could this approach be simplifier even further?
Introducing the L1 Compact Portable Line Array System
The L1 Compact portable line array system is the latest development from Bose. This new system continues the tradition of the L1 portable line array family with the smallest, lightest, easiest-to-set-up system yet. The L1 Compact system is small enough to fin in your trunk or back seat, and its modular design makes setup easy and fast. No heavy speakers to lift onto stands. No speaker cables. It's all integrated into one system.
Carry it in one trip
Portability is extremely important for performing musicians. Multiply trips to and from the car can be a pain. With the L1 Compact system, you don't have to carry a separate amplifier, mixer, or bass cabinet. They're already built in. The system's power stand includes an integrated bass speaker and amplifier, plus a built-in mixer. The entire L1 Compact system weights only 29 pounds and can be carried from the car to the venue in just one trip. The loudspeaker extensions fit into the included carry bag and a protective cover is provided for the power stand.
Set it up in one minute
Once you've loaded into the venue there never seems to be enough time to set up and sound check. The L1 Compact system setup is quick and easy; no speaker cables or stands required. The entire system can be set up in a minute or less. The durable, lightweight, interlocking components make setup and tear-down very simple. Just remove the loudspeaker array from its slot in the power stand, insert each loudspeaker extension, and place the array on top. The speaker connections are made for you automatically. And it's easy to get plugged in. We've designed a simple but powerful 2-channel mixer that includes a dedicated channel for a dynamic hand-held microphone. It features a proprietary Bose ToneMatch preset that instantly equalizes your microphone from the moment you plug in.
Channel 2 accepts up to three inputs at once; a ¼" connections accommodates sources like guitar, keyboards, and other instruments. There's also a ToneMatch switch that engages preset specifically for acoustic guitars with piezo pickups. Also included are a 1/8" input for sources like MP3 players and PCs, and an RCA input for other sources like CD and DVD players.
Need to record your performance or send your signal to a large house system? A separate ¼" line out and a separate RCA record output are accessible on the rear panel.
Fill the room with one system
Now that you're set up, it's time to play. Like the existing L1 systems, the L1 Compact system uses proprietary Bose technology to combine PA and monitors into a single system that can be positioned behind or to the side of the performer.
The L1 Compact loudspeaker array is smaller than those in L1 Model I and II systems, but produces comparable horizontal sound coverage. L1 Model I and Model II loudspeakers project sound further with less drop-off of volume than the L1 Compact array. The L1 Compact system features Bose Spatial Dispersion loudspeaker technology, which delivers sound evenly across the stage and throughout the audience, even to the extreme sides. Only one speaker is needed to deliver balance sound throughout the room. When you perform with the L1 Compact system you can know that what you experience as a performer is almost the same as what your audience will hear.
Flexibility–two unique setup positions
The L1 Compact system has two unique setup positions. If you're performing in a small venue or rehearsal, you put it on a tabletop and use it in collapsed position. Or, for times when you are playing to a larger audience room and need to project the sound throughout the room, use the two extensions included to elevate the loudspeaker array. In either position the L1 Compact system's acoustic performance is comparable.
Not just for musicians
Although the L1 Compact system is an ideal solution for performing musicians, it can also be used in almost any type of application where music and speech need to have a high impact in small or large group settings. It's an excellent choice for mobile Djs, classroom, business presentations, and other similar applications. The new L1 Compact system: audio performance, simplified setup, and one-trip portability. Only from Bose. Price: $999
Musician's Friend
Written by Mike Hallal, Craig Jackson, and Neil Chauvin — Bose Corporation