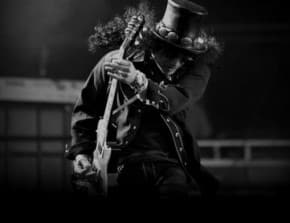 Marshall Amplifiers and legendary guitarist, Slash, have been working together to recreate the amp that was used on the 1987 Guns n' Roses album, 'Appetite For Destruction'. Marshall have been posting a number of updates on their AFD100 website.
Fans of both Slash and Marshall are able to follow the progress of the amp's creation by visiting www.afd100.com, where they will receive regular updates throughout the development stages of the amplifier. The AFD100 is planned to be released later this year 2010. Marshall Amplification has had a long association with Slash — the JCM 2555SL Slash Signature Series amplifier was released in 1996.
Stage 1: AFD100 R&D Investigation part 2
After the initial inspection was complete and the chassis safely back in it's robust housing the conversation turned to possible amp models and features. This is also where Santiago asked to get hold of the original AFD master tracks. As we know, Slash came through and these are now providing invaluable info on the Appetite tone.
Stage 1: AFD100 R&D Investigation part 3
Here Slash and our Engineer Santiago discuss the tonal qualities of both the Jubilee and JCM800 amps, as well as a possible boost function for the AFD100 and that all important question . . . to FX loop or not to FX loop?
Stage 1: AFD100 R&D Investigation part 4
After plucking a 1959 from the studio stock room the debate turns to variable wattage controls, gain stages and multiple inputs in this AFD100 video episode.
Stage 1: AFD100 R&D Investigation part 5
We're talking aesthetics and output valves (tubes) this week as the guys discuss JCM800 and 1959 styles and what should power the AFD100 tone – EL34's, 6550's . . .?
Marshall Amplification — gotta love legendary guitarist Slash, his style and tones is amazing.