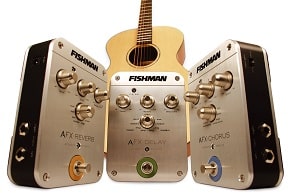 For years, ACOUSTIC-ELECTRIC players that wanted to process their instruments with effects have faced a dilemma. Because acoustic instruments have a refined, subtle sound, only studio-quality effects will do when you want to process acoustic tones.
Unfortunately, such effects typically are offered in rack processors, which are unwieldy to haul around to most gigs and difficult to use in live performance. Effect pedals are a more ideal solution, but most stomp boxes are designed for electric guitars and provide less-than-desirable results with an acoustic guitar, often covering up the instrument's nuances instead of enhancing them.
Fishman's AFX Series acoustic effect pedals provide the perfect answer for acoustic players who need the stunning sound quality of professional rack effects but want the convenience and portability of a stomp box. Fishman offers three pedals–chorus, Delay and Reverb–that cover most of the processing ground that acoustic players need.
FEATURES
All three pedals are housed in rugged aluminum cases with identical control layouts. To avoid confusion, each effect features a color-coded modern and classic delay presets, each with options for short, medium, long and ping-pong delays. It also includes a delay hold function that captures loops up to 2.9 seconds long and a tap feature that lets you manually set synchronized eighth-, dotted eighth— or quarter-note delays with an optional momentary footswitch connected to the tap switch jack. The Reverb pedal features presets for studio, room, plate, chamber, stage, concert hall, cathedral and "canyon."
For professional-quality sound and performance, the pedals feature 24-bit A/D/A converters and 32-bit internal processing. Each can be powered with a nine-volt alkaline battery, which last about 20 hours, or with an optional Fishman 910-R adapter. An LED doubles as a clipping indicator and low- battery-power indicator.
PERFORMANCE
Fishman'S AFX Pedals may cost more than average stomp boxes, but that's because these pedals produce outstanding effects that are comparable to the sound and quality of professional studio rack processors. In fact, these pedals sound so good that you may want to use them with your electric guitar as well–they simply make lesser pedals sound like cheap toys.
The chorus pedal's modulation effects are rich and thick, but they don't obscure the essence of an acoustic guitar's tone. The Delay pedal produces razor-sharp digital delays and warm, tape-like echoes that maintain fullness and body as each repeat decays with smooth tails, providing very natural room and hall sounds without the harsh metallic overtones that characterize cheap reverb effects.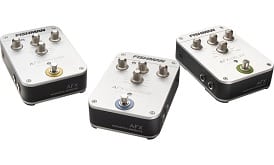 All three pedals are very versatile, but the Delay pedal takes the prize for flexibility. The tap tempo and delay hold features are especially useful for live performances, allowing users to jam with their own loops and summon perfectly synchronized delays with a drummer, rhythm machine or sequencer (and without nerdy MIDI timeclock fiddling). In fact, the tap tempo feature works so well that it pretty much makes the delay time control unnecessary.
The chorus pedal's flanger and phaser presets are appropriately subtle, producing a light background woosh instead of dramatic "landing jet" sweeps. The tones range from a useful thickening effect to a lush, 12-string-like sound. Of the eight reverb presets on the Reverb pedal, the room, plate and concert hall presets were my personal favorites, while I found the cathedral and canyon effects perhaps too dramatic.
THE BOTTOM LINE
If you need studio-quality sound but the portability and convenience of stomp boxes, Fishman's AFX pedals are the only way for acoustic-electric players to go. While the cost of all three pedals together may be as much as a good rackmount multi-effect unit, it's difficult to match the live performance functions and ease of use that they offer. Thanks to Fishman and GuitarWorld for the report.
Fishman Acoustic AFX Pedals performed by GuitarWorld