Page 1 | Page 2 | Page 3 | Page 4 | Page 5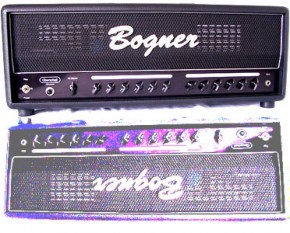 From Bogner's website: "UBERSCHALL" the German word for "Super Sonic", is really ARMAGEDDON IN A BOX!! Everything this amp touches is Chernobylized! Instant nuclear meltdown, VAPORIZED… We designed this amp primarily for heavy playing, aggressive styles of music CRAVE! this amp."
Bogner is one of those rarefied amp lines whose mere name conjures up images of boutique rock tones, a seriously upped coolness level, and, of course, hefty price tags.
Bogner amps always seem to show up on some of the worlds' biggest rock stages and one of the models we see over and over is the Uberschall. The Uberschall is an EL34-powered 120 watt beast of an amp that delivers tons of low end as well as massive amounts of gain, making it perfect for drop-tuned or seven-string players. It has two channels and a global master volume, a tube-buffered effects loop, and volume, gain, bass, treble, middle, and presence controls for each channel. It is foot-switchable and the switch is included with the head.
Make no mistake: this is an amp that is made for the most aggressive styles of guitar playing out there today. It begs to be cranked and beaten on, all the while showing its fangs and asking for more. It is definitely not an amp for the faint of heart.
A list of Bogner rock artists would include Slipknot, Avenged Sevenfold, Jerry Cantrell, and many other heavyweights who pack the gear needed to make an amp like this sit up and take notice. Think you got it like that, kid? Then step on up to the plate and see if the Uberschall is the amp that finally makes the most of your metal.
Bogner Uberschall Metal Clip