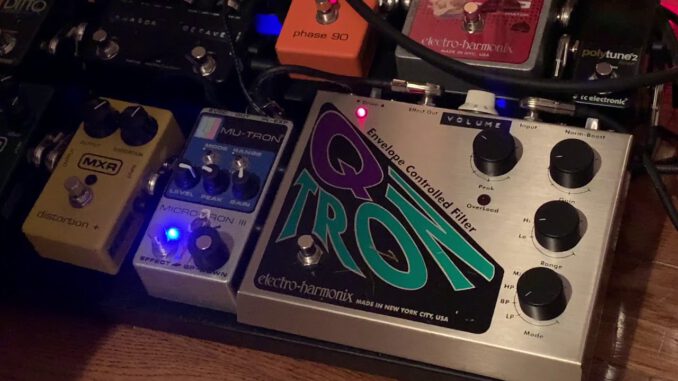 Way back in the early Seventies, a company called MuTron made waves in the guitarworld with the introduction of the Mu-Tron III, the world's first envelope follower pedal. This ingenious device provides automatic wah effects, using the dynamics of the input signal to control frequency and resonance so the tone varies in relation to how hoard the strings are struck. Although the Mu-Tron III can emulate a wah-wah pedal quite convincingly, its real strength is its synth-like swells, drippy clicks and duck-like quacks.
Funk players like Parliament bassist Bootsy Collins flocked to this pedal in droves as they no longer had to worry about balancing their stacked platform soles on a rickety wah-wah pedal to get expressive, vocal-like tones. The Mu-Tron III also was a crucial element of Jerry Garcia's and Frank Zappa's sounds, and it even found flavor with keyboardists such as Stevie Wonder, who used a Mu-Tron III on his hit "Higher Ground."
Unfortunetly, the Mu-Tron company folded as the Seventies came to a close. Engineer Mike Beigel, who designed the original Mu-Tron III, dropped out of the musical instrument business for years, but in the late 90's joined forces with Electro-Harmonix's Mike Matthews to resurrect a new and improved version of this desired effect.
The Electro-Harmonix Q-Tron offers many of the same features and functions as the Mu-Tron III, plus a few improvements. Like the original, the Q-Tron has a drive switch with up and down settings, a hi/lo range switch and variable gain and peak controls. The Q-Tron differs from its predecessor in that it includes a boost switch, an overload indicator and the addition of a mix setting to the mod selector, which also offers band-pass, low-pass and high-pass filter settings. The effect is housed in a sturdy stainless steel case similar to those used for E-H's Deluxe Electric Mistress and Deluxe Memory Man.
But the biggest differences in the Q-Tron's vastly improved sound and responsiveness. We compared the Q-Tron side-by-side with an original late Seventies Mu-Tron III, and it only took a few minutes to determine that the Q-Tron is superior. The Q-Tron can accurately duplicate the Mu-Tron's most desirable sounds, but it can be tweaked even further to provide fatter bass, more cutting highs and ominous, floor-shaking swells. The pedal is especially responsive to picking dynamics, making it easy to generate expressive effects. Within minutes, even the most mild-mannered players were transformed into fire-breathing funk monsters.
The End Line
George Clinton once said, "You can't fake the funk," but thanks to the Q-Tron it's easier than ever to get nasty, booty-shakin' tones. Exceptionally responsive and dripping with attitude, this pedal provides some of the juiciest envelope follower sounds in existence.
Electro Harmonix Micro Q-Tron Envelope Filter