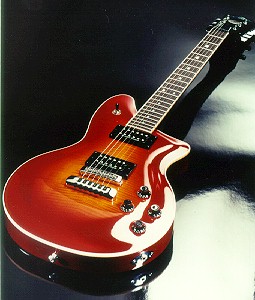 Washburn's P-series were a fine instrument, especially the P4 Deluxe. The guitar was introduced in early 1997, featuring a mahogany body with a flamed maple top that was so beautiful that you would literally drool down your chin.
The guitar also featured Washburn's (exclusive) sound chambers, which made the guitar extremely lightweight and resonant. The P4 came from the factory with Seymour Duncan classic '59 and custom humbuckers installed, the tone was absolutely to die for.
Also included in the P4 Deluxe was Schaller locking tuners and a fine-tuning tailpiece, which was designed to give you full control over tuning with the added benefit of a graphite nut. The instrument was available in a variety of burst colors, including Wineburst, Cherry Sunburst, Blueburst, Honeyburst, Coffeeburst and Tobaccoburst.
Advertisement————————————
————————————————————