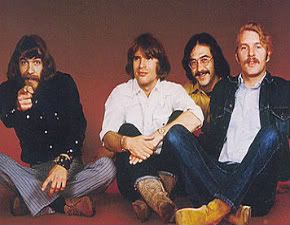 By the beginning of 1969, Creedence Clearwater Revival had already attained a small measure of fame with "Suzie Q" the hit song from the band's self-titled 1968 debut. But the hit-making machine the group would become was just warming up, and in the decade's last year, CCR would turn out a slew of double-sided hit singles and no fewer than three albums, each of which would go Platinum.
The first of two of these, Bayou Country, was issued during the first week of the year. Containing two instant-classics—"Born on the Bayou" and "Proud Mary"—Bayou Country was tonic to a divided America, speaking in down-to-earth language to people of every political stripe, economic strata, age and race. The album was the complete crystallization of the Creedence concept as designed by John Fogerty, the band's lead singer, guitarist, songwriter and producer. Over its seven tracks, he evoked the bayou, the river, the whisky still and the unnamed evil shadow lurking over everything, all of it framed by his Howlin' Wolf-meets-Wilson Pickett vocals, his powerful but tastefully restrained lead guitar and CCR's crack rhythm section. It's easy to see why Fogerty regards Bayou Country as a pivotal point in CCR's career and in his own.
But just how did this Northern California boy immerse himself in his musical vision of the swamp?
" 'Suzie Q' was a hit all through the summer of '68, and that basically left us horrid, dreaded position of being a one-hit wonder," says Fogerty. "I set out to overcome the sophomore jinx."
"The process of writing songs for Bayou Country began as early as May '68. I was living in a very small apartment, with bare walls, staying up late to write these songs and trying to imagine what I could do to be unique. In a few weeks' time, the idea of the swamp and the bayou emerged from that process. I sad, 'Man, I'm creating my won little world!'"
And what a would it is: the "Proud Mary" riverboat whose big wheel keeps on "toinin'"; the overgrown backwoods terrain and the barking hound dog in "Born on the Bayou;" the strangely sexy notion of "Keep on Chooglin' "; and the all-too-real imagery of the traffic pileup that results in 30 highway deaths in "Graveyard Train." It's a palpably weird atmosphere into which the sole cover, Little Richard's "Good Golly Miss Molly," fits seamlessly.
Advertisement————————————
————————————————————
Creedence was, of course, a quartet, consisting of Fogerty, bassist Stu Cook, Drummer Doug Clifford and rhythm player Tom Fogerty (John's brother, now deceased). But while the other three played their parts well, it was Fogerty who held the strings. "I showed the band how each part went and how the music fit the song I had written," says Fogerty. "And when I showed them the music, I did not sing the song to them. Many times they didn't know what the song was called until the recording was finished and mixed."
At a time when many hip musicians were content to jam and make sloppy records, Fogerty worked out air-tight arrangements for his songs. His fundamental idea was to create records that were simple and powerful and worked the car radio. "I'm not too complicated," he says. "The whole trick was to find that thing that didn't require a whole lot of technical expertise."
Forties years after its release, "Proud Mary" is still Fogerty's best-known song, a bona fide American classic. Recalling the imagery central to its message of freedom, Fogerty says, "When I got the part about 'rollin' on the river,' I really woke up and paid attention. It was several cuts above anything I'd even dreamed about before. I knew it was my first really good song."
Gear-Vault Classifieds is an eBay alternative. Come sell your music equipment with us, for FREE!