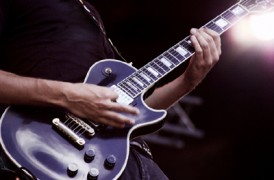 Guitar training–It can be, as we all know, a long way to the top if you want to rock and roll, especially for beginning guitarists. It can be tough for new players to know what to work on, how long to work on it for, and what techniques are important foundation concepts they need to learn and what are best left alone until they reach the black belt class.
Well, rest easy, all you budding young shredders and metal-men in waiting, as your humble Gear-Vault staff spends much time pouring over all the latest guitar instructional material available to help you be the best that you can be.
One of the coolest new books aimed at helping beginning and intermediate rockers is "Monster Power Chords" by Chicago-area guitar instructor DJ Nelson. Nelson has been teaching and performing for over 20 years and has put together a great guide on power chord rhythm playing, which is about as elemental as it gets and is something that every self-respecting rock guitarist should be good at.
It's hard to overstate how important power chord playing is to styles like rock, punk, metal, and alternative and "Monster Power Chords" gives its readers a full course in how to use them. Topics covered include open, movable, and extended power chord grips, rhythm guitar techniques, palm muting and muted strumming, alternate picking, harmonics, basic concepts in music theory, and more.
All in all, there are 100 exercises for players to practice. Buyers also get access to a download bundle that includes audio examples from the book, drum loops in MP3 format, jam along tracks, and four videos.
Nelson communicates all topics covered clearly and concisely and gives those who might be struggling to learn the basics of rock guitar playing a great hand up. All this knowledge comes at the princely price of $12.95, so there is no way to claim hardship if you can't get your chops together. "Monster Power Chords" is available on the Metal Method website (www.metalmethod.com). If you feel rock and roll energy surging through your veins but just don't know where to begin, pick up "Monster Power Chords" and let DJ Nelson help you get your music from the cradle to the stage.
Review of Monster Power Chords