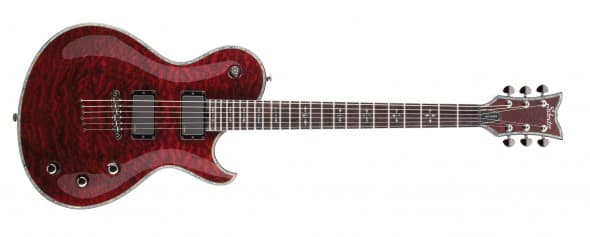 Schecter Hellraiser Solo 6
Like some people, some guitars are just born to rock. It's just part of their DNA, their reason to be on the planet. If you are reading this, you probably are that person on your circle of friends, but are you playing an instrument that is your rock and roll equal? Don't get me wrong, there is nothing wrong with a jack-of-all-trades guitar, but sometimes one just needs to call in a specialist. The Schecter Hellraiser Solo 6 just might be the thing that you need if your jones is for all things hard and heavy.
One quick spin around the test track will prove that this is a guitar that is made for getting loud and cranking some metal. It is built around a mahogany body, which is the perfect wood to produce dark and ominous tones, and the neck is made of mahogany, as well. This insures that the 6 will always be warm, punchy, and in your face. Speaking of the neck, it features 24 extra jumbo frets and gothic cross inlays and connects to the body with Schecter's Ultra Access neck joint, which gives easy reach to the highest notes for all the soloists out there.
The electronics and hardware picked for the Solo 6 are also similarly rocked out. Pickups are EMG Active 81TW and 89 humbuckers that are wired to independent volume controls, a master tone, and a three-way switch. The bridge is a TonePros Tune-O-Matic with thru-body string mounts and the tuners are Schecter locking models. All hardware is rendered in black chrome.
Online reviews of the Schecter Hellraiser Solo 6 run very positive and the guitar seems to be a hit with its target audience. Of course, you can play anything on anything but, if your goal is to drop the hammer and rock hard, you owe it to yourself to play a Solo 6 before your next guitar purchase; it just might make up your mind for you.
Video Overview

Schecter Hellraiser Deluxe
Schecter Guitars have become very well known in the world of hard rock and heavy metal for providing excellent axes at excellent prices. Their Hellraiser Deluxe model continues in that tradition and will certainly win over many fans among the hard and heavy set. It is built around a double cutaway mahogany body with a flame maple top and a three-piece mahogany neck with an ebony fingerboard and 24 jumbo frets.
Like all the guitars in the Hellraiser line, the Deluxe comes outfitted with a pair of EMG active pickups (an 81 and an 85) for pure metal-approved tone that is perfect for jackhammer rhythms and over-the-top lead shredding. There is also a Tune-O-Matic-type bridge for accurate intonation and a string-thru-body design to ensure maximum sustain.
What do all these specifications add up to? A guitar that achieves its goal of being a great choice for anyone looking for a rock guitar, but it is also a guitar that is surprisingly versatile. Because of its classic maple-mahogany-twin humbucker design, the Hellraiser Deluxe can go most places that the 'bucker-based guitars of yesterday can go and do equally well in jazz, funk, reggae, and fusion styles.
What also helps the Hellraiser Deluxe in this area is its classy and fairly traditional styling, which is long on curves and short on points and sharp edges, unlike many instruments aimed at the rock and metal market. Schecter chose wisely in this department and has ended up with a guitar that will appeal to a wide variety of musicians across many different playing styles. Plus, the super-friendly list price of $499 makes the Hellraiser Deluxe even more attractive to those out there on a budget. Anyone looking for a humbucker guitar at an amazing price should give this one a test run; it just might be a keeper. How does the Schecter Hellraiser Deluxe compare to the Schecter Hellraiser C-1? We'll take a look at the C-1 after you watch the below video!
Video Overview

Schecter Hellraiser C-1
Schecter Guitars have been around for a long time, but for many years were a bit below the radar of many guitarists. One Schecter guitar that we all should be familiar with is the black T-style axe that Pete Townshend played, which he played on the Who's video for "Eminence Front" in the early 1980's.
These days, the company is a major player in the rock guitar market, with a wide range of instruments that pack a lot of bang for the buck while playing, sounding, and looking great. It is becoming quite common to see rock and metal players at the highest levels slinging Schecters and loving them, which is a huge leap forward for a company that began as a maker of replacement guitar parts in 1976.
The Hellraiser C-1 is an outstanding choice for any actual or aspiring metalheads out there. It is based on the now-classic "Super Strat" archetype and features a double-cutaway mahogany body with a quilted maple top, a set three-piece mahogany neck with 24 jumbo frets built to a 25.5-inch scale, and gothic cross fingerboard inlays.
Electronic included are two EMG humbucking pickups (an Active 81-TW and an 89), independent volume controls with coil taps, a master tone control, and a three-way pickup switch. Hardware is rock-approved black chrome and includes a TonePros bridge and Schecter locking tuners. There is also a model available with a Floyd Rose trem that carries an FR designation, and a lefty version, as well.
The Schecter Hellraiser C-1 is outstanding at producing classic rock and metal tones and excels at robust cleans, fat crunches, and wailing high-gain madness. Its construction imparts a thickness that can't be denied and that really adds to the sonic impact of the guitar. Probably not the best choice for country, but rockers seem to love it. The most loveable part of the C-1 is the price. With a retail tag of $1069.00, the Hellraiser C-1 puts top notch tone, fit, and finish into the hands of just about everyone. If you are looking for a new axe to rock the house with, the Hellraiser C-1 may be just the thing.
Video Overview

Schecter Hellraiser Avenger Guitar
By now, most rock and metal players are well aware of Schecter guitars and the huge bang for the buck they provide for anyone looking for a righteous rock axe at a winning price. Their entire product line seems to be based around this idea. One of the most radical rock sticks the company produces is the Hellraiser Avenger.
The Avenger is one of the original Diamond Series instruments and features a pointy-but-elegant silhouette that will appeal to all fans of things hard and heavy. The Avenger is built around a mahogany body with an arched quilted maple top and a mahogany neck constructed to a 25.5" scale. The neck is set into the body with Schecter's Ultra Access neck joint, which provides easy reach to the guitars' highest registers and sports 24 extra-jumbo frets and gothic cross inlays on its rosewood fingerboard.
Pickups are EMG active 81TW and 85 models, which give the guitar massive sustain and crunch power, as well as tons of definition and attack on each note. Schecter also throws in locking tuning gears and a TonePros bridge, which are the kind of details that are usually only found on much more costly instruments.
The Avenger is clearly aimed at modern rock players (probably won't see too many of these on the Grand Ole Opry) but, due to its classic construction and EMG pickups, does a better than average job at straight-up rock, jazz, and blues sounds, as well.
Like all great guitars, it is more than a one trick pony and will serve anyone who opts to pick one of these up very well. Online reviews run overwhelmingly positive on this one and that kind of user feedback never lies. If you are pure metal head and want everyone around you to know it, the Hellraiser Avenger just might be your ticket to high-gain heaven.
Video Overview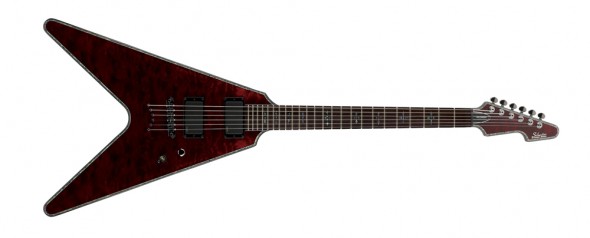 Schecter Hellraiser V7
Musical styles and the guitars we use for them are kind of a funny thing. Sometimes, using the right axe for the right gig is the crucial difference between getting it right or looking completely out of place. Where would a country band be without a Telecaster or a straight-up jazz gig without a full-depth archtop?
When it comes to rock and metal, there are a variety of instruments to choose from that will all get the job done. Having said that, some out there will want to make a statement about their genre and their attitude toward it. For some, no mere Les Paul / Ibanez / Superstrat will do. When it comes right down to it, nothing screams "metal" like a seven-string flying V. Enter the Schecter Hellraiser V 7. The V 7 is designed for the heaviest of the heavy set, and no one will ever mistake it for a mild-mannered wedding gig guitar.
The V 7 is constructed around a mahogany body and neck that specs out at a 26.5" scale length. It is a set neck guitar with Schecter's Ultra Access neck joint to allow easy high-register playing and 24 extra jumbo frets that make string bending a breeze. The neck also features a rosewood fingerboard and rock-approved gothic cross inlays.
Electronics include EMG 707-TW pickups that produce humbucker and single-coil sounds when tapped via a push/pull pot for ultimate sonic versatility. Controls are twin volume and tone knobs and a three-way pickup switch. Hardware is black chrome and there is even a Floyd Rose-equipped version available. All of this conspires to produce a guitar meant for stage work in the hardest musical styles out there, one able to go from screaming solos to low-tuned power grinding with ease and look absolutely ice-box while doing it.
The V7 packs the same high level of fit and finish that is found across the entire Schecter line and presents those looking for a full-on rock apparatus with a serious contender to consider.
Video Demo

Schecter Hellraiser C-7 — Seven String
Although the Korn epidemic of the 1990's is long past, there is still a fair amount of interest out there in 7-string guitars. 7-strings allow players access to lower notes outside the range of a standard guitar and also let more sophisticated players the chance to voice chords more like a piano player would, which is seen mostly in the jazz world. A cool choice for more rock-oriented players looking for a 7-stringer is the Schecter Hellraiser C7.
The Hellraiser is designed and built for the heaviest of rock and metal use, with a mahogany body, set neck, 26.5" scale length, and EMG 707TW active pickups. The C7 also features an ultra-access neck joint and 24 extra-jumbo frets, which make playing it a breeze. Other touches include individual volume controls for each pickup, a master tone control, a three-way pickup switch, Grover tuning gears, a thru-body TonePros bridge, a push-pull knob for coil splitting, abalone binding, and cool gothic cross neck inlays. A Floyd Rose version can also be had for a slight upcharge.
Even though the C-7 is metal to the core, it also excels at clean funk and jazz tones, thanks to the EMG pickups. It also balances well and provides a high degree of fit and finish, especially for a guitar that retails for $1249.00. Schecter is great at making guitars that pack a lot of value for the price and the Hellraiser C-7 is no exception. While a 7-string guitar is not for everyone, they can be a cool tool to pull out on occasion or the basis for some players' whole style and way of playing. If extended-range guitar playing seems to be calling your name, give the C-7 a test drive at your local Schecter dealer to find out just how low you can go. Want to see the six-string version? Read: Schecter Guitars C-1 Hellraiser 6 string.
Video Overview

Schecter Hellraiser Extreme Bass
Bass players are often thought of as a different breed, and the best of them truly are. Not interested in flashy solos (for the most part), they are the backbone of any great band and the cornerstone upon which great rock is built. They do, however, want the same things as guitarists do, namely a cool axe that fits their style and image that plays great and comes in at a comfy price. If you find yourself going "Hey, he's talking about me," then hop into the old '69 Camaro and head down to your local Schecter dealer because the Hellraiser Bass is calling your name.
Like the Hellraiser guitars, the Hellraiser Bass is constructed upon a mahogany body with a figured maple top. The neck is a multi-laminate walnut and maple affair built to a 34-inch scale length and it is attached to the body with Schecter's Ultra-Access neck joint, which makes high notes a snap to get to. Also like the Hellraiser guitars, the neck has 24 frets and gothic cross inlays. Four- and five-string versions are available.
Pickups on the Hellraiser are EMG 35P4 / 35J models with an 18-volt active two-band EQ with master volume, blend, treble, and bass controls. Bridge and tuners are the typical Schecter black chrome. It's easy to see that the Hellraiser Bass packs all the style and punch needed to get the job done on the stages of today and is an excellent choice to consider for any bass player out there. Best of all, with it's modest price for such a hot four-string, just about any bass player will be able to take one of these home. See, guitarists and bassists aren't really so different after all.
Video Review