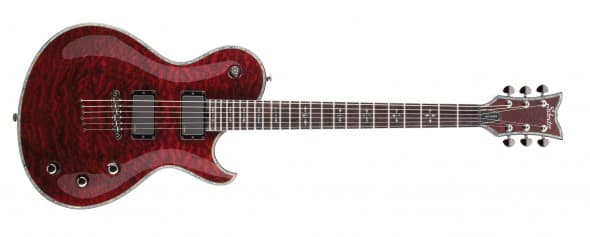 Schecter Hellraiser Solo 6
Like some people, some guitars are just born to rock. It's just part of their DNA, their reason to be on the planet. If you are reading this, you probably are that person on your circle of friends, but are you playing an instrument that is your rock and roll equal? Don't get me wrong, there is nothing wrong with a jack-of-all-trades guitar, but sometimes one just needs to call in a specialist. The Schecter Hellraiser Solo 6 just might be the thing that you need if your jones is for all things hard and heavy.
One quick spin around the test track will prove that this is a guitar that is made for getting loud and cranking some metal. It is built around a mahogany body, which is the perfect wood to produce dark and ominous tones, and the neck is made of mahogany, as well. This insures that the 6 will always be warm, punchy, and in your face. Speaking of the neck, it features 24 extra jumbo frets and gothic cross inlays and connects to the body with Schecter's Ultra Access neck joint, which gives easy reach to the highest notes for all the soloists out there.
The electronics and hardware picked for the Solo 6 are also similarly rocked out. Pickups are EMG Active 81TW and 89 humbuckers that are wired to independent volume controls, a master tone, and a three-way switch. The bridge is a TonePros Tune-O-Matic with thru-body string mounts and the tuners are Schecter locking models. All hardware is rendered in black chrome.
Online reviews of the Schecter Hellraiser Solo 6 run very positive and the guitar seems to be a hit with its target audience. Of course, you can play anything on anything but, if your goal is to drop the hammer and rock hard, you owe it to yourself to play a Solo 6 before your next guitar purchase; it just might make up your mind for you.
Video Overview