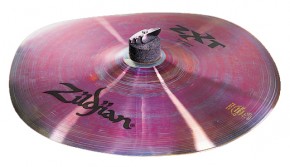 Drummers have a unique perspective when it comes to generating sound. While other instrumentalists are limited to what they can be plugged into via an effects-loop or, stomped on via a bloated pedal-board, drummers can make virtually anything percussive. Kitchen sinks, lengths of copper pipe, hubcaps and license plates have all found there way to my percussive arsenal. Found objects can really open up one's sonic creativity.
The Zildjian Company of Norwell, Mass. has been a source of percussive inspiration for nearly 400 years, and it seems their creative thinking has produced yet another sound to salivate over. The Zildjian ZXT Trashformers. These 8" and 10" cymbals ( MSRP 8″ / $95 and 10″ / $108) look like a psychedelic-splash cymbal when caught at first glance. Their super-wavy shape and burnt-blue-purple hue is far, far away from the conventional look drummers are familiar with when looking at cymbals. The ZXT Trashformers can be played on their own for sizzly-twangy-bangy effects, or stack them together with traditional cymbals for far-out noise-effects. The 10" Trashformer upside-down under a ride will give life to your old standby ride cymbal and when combined with crashes the sound is just SHOCKING! Try a matched pair as a second set of hot, hot-hi-hats!
There is no wrong way to explore the sonic space with these cool new plates from Zildjian. It seems that finding our drumming identity through new sounds just got a little bit easier, now mom can have her sink back! Thanks Zildjian!