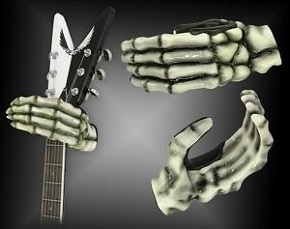 There are certain things that we are just plain used to in the guitar world, that we expect will never change. And if they do change, it will be marginal at best. Things like picks, straps, strings, etc….
Another item that is often overlooked is the guitar hanger. More and more people have decided to go this route, and for a very long time, what did we have to choose from? Black hooks, brown hooks, and gray hooks… there was hardly any diversity or individual character found in a guitar hanger.
That was at least until The GuitarGrip came along.
Each of these unique hangers are crafted from a high quality resin, and detailed to the max. Each unit is tooled to look like a hand, whether it's a monster hand, the hand of the grim reaper, or something else entirely.
The GuitarGrip also features a built in rubber seat, so there is no chance that your baby will get scratched, and an easy to follow installation kit, that will ensure a durable and secure setup.
Arguably, the most popular series Grip Studios offer is the GS-1 series. Simple, but well thought out and aimed to please.
Grip Studios also offer many other styles, for those feeling a little ballsy with what they put on their wall. Other styles produced include hand carved models, artist original models, and many more. [For a complete list of their products, check out www.guitargrip.com].
But don't take my word for it, there is a chorus of supporters hailing the GuitarGrip as the next big thing in guitar accessory innovation.  It was even voted Best in Show Award for Hottest New Product You Gotta Stock! At Winter NAMM 2011.
I personally love this product. It's edgy, it looks sweet, and I have confidence that my axe will hold up just fine with one of these.
It takes a lot of effort and drive to realize something like this, and I'm glad Grip Studios have done it. And for players to entrust their baby with an item like this, well they can rest assured their guitar is in a good hand.